El Septimo Luxus Flamingo Amarillo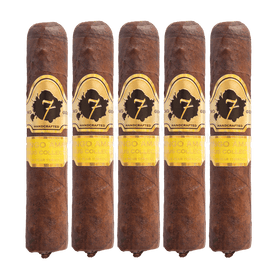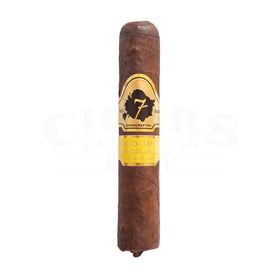 El Septimo Luxus Flamingo Amarillo cigars are part of a ten-blend luxury cigar series that is built around aged tobacco. Some of the leaf in the blends has been developing for ten years (or more) at this point, so the flavors are quite mature.

El Septimo makes cigars out of Costa Rica and definitely finds interesting ways to feature tobacco from farms there in its blends. They often don't disclose specifics, so most cigars from the company's portfolio must simply be experienced on their own merits. Fortunately, there's a lot of surprisingly great smoke in El Septimo's inventory!

Flaming Amarillo cigars are in the mild to medium strength range, but deliver quite a shot of potency for what you might expect. They also are total smokestacks. The company points out that those lighting up one of these premium stogies will be treated to an "abundant volume of smoke." And this isn't mere hype. These things cook and give you very rich, dense clouds of smoke.

The wrapper is a Maduro, which is common for the Luxus line. Nice oily and dark tobacco is what the whole group of cigars seems to be built around. In the case of the Flamingo Amarillo, you get "a lovely aromatic range" from it, and will experience traditional flavors of cedar and spice. It's actually sort of a simple concept, at the end of the day. El Septimo describes it as a "small, classic cigar" that "epitomizes consistency and suppleness."

This one is for folks who love a good cigar that is made to create time-tested flavor notes from one draw to the next. It's a short but still robust size at 4.5 x 52, and should give you a really nice break from reality while it lasts.
This El Septimo Luxus Flamingo Amarillo cigar is made in Costa Rica. Outside, you'll find an undisclosed wrapper. Inside, the binder is undisclosed, and the filler is undisclosed. This is a Medium strength Robusto Gordo shaped cigar with a length of 4.50 and a ring gauge of 52.
Please browse our selection of El Septimo Luxus Flamingo Amarillo cigars at your leisure.

• What are the flavors like?
o Classic notes of cedar and spice

• What's the strength level?
o Medium

• Who is this cigar for?
o El Septimo Luxus Flamingo Amarillo cigars are for folks who want a traditional profile from exquisite aged Costa Rican tobacco.

• Will I want to smoke it to the nub?
o It's straightforward, but satisfying.

• What's a good pairing with it?
o This one could do it all – morning coffee, a beer from the fridge, a rum cocktail… and of course, our greatest friend, whiskey.

• What's the best time/place to smoke this cigar?
o On vacation. Somewhere sunny with colorful birds.

• Any flaws/downsides?
o The strength is sneaky here. El Septimo describes this one as "more mild strength." In our experience, this one has more than mild strength.
Payment & Security
Your payment information is processed securely. We do not store credit card details nor have access to your credit card information.