El Septimo Diamond Excepcion Esmeralda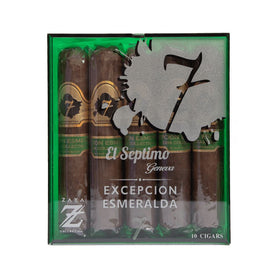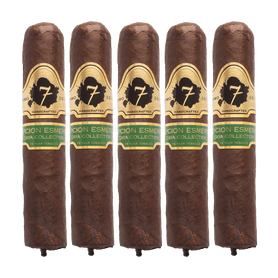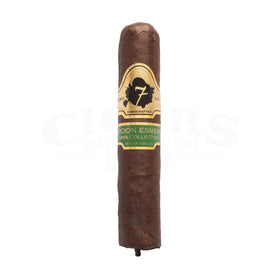 El Septimo Diamond Excepcion Esmeralda cigars are part of a high-flying line from a premium manufacturer who is looking to take the industry by storm. El Septimo's Diamond line is built, like others from the company, around aged Costa Rica leaf. In this case, boxes of these beauties reference 5-year tobacco. So much of the cigar industry is content with a year or two of aging. (And, to be fair, most of the flavor development takes place then.) But with a bit more patience, you can create something a bit more subtle and elevated for the aficionados out there who love a special smoke.

Are El Septimo Diamond Excepcion Esmeralda cigars worth the wait? We think so. There's a lot going on in this particular blend, and El Septimo has catalogued it quite well. They state that "The cigar offers well-balanced flavors until the end, made up of a creamy mixture between cedarwood, walnut and molasses." This woody and sweet mixture is taken to another level when other notes come in as the cigar develops. In fact, the company, describes that "Fruity aromas of milk chocolate and orange zest are sure to please the senses, making this the perfect cigar to pair with a cappuccino or fine malt."

When was the last time you had a malt? What a fantastic throwback pairing idea! Get the necessary ingredients online if you have to, and make one in a blender at home while playing an "oldies" channel. It could be amazing.

El Septimo Diamond Excepcion Esmeralda cigars measure 5 x 60, so there's plenty of tobacco to work with. The cover leaf is described as a "silky wrapper" that's dark and that helps the cigar keep a "steady and voluminous smoke throughout the entire burn." We love to hear that. It's always such a pleasure when draws are productive and you get a lot of lush smoke to enjoy while you're puffing along. That rich Costa Rican leaf is really going to work here to help make relaxation time a luxury experience.

Each tobacco plant is an emerald green gem, and this dark aged tobacco is what time has turned its produce into. The wait is over. Let's enjoy the shine!
This El Septimo Diamond Excepcion Esmeralda cigar is made in Costa Rica. Outside, you'll find an undisclosed wrapper. Inside, the binder is undisclosed, and the filler is undisclosed. This is a Medium to Full strength Robusto Grande shaped cigar with a length of 5.00 and a ring gauge of 60.
Please browse our selection of El Septimo Diamond Excepcion Esmeralda cigars at your leisure.

• What are the flavors like?
o Cedar, walnuts, molasses, citrus

• What's the strength level?
o Medium-full

• Who is this cigar for?
o El Septimo Diamond Excepcion Esmeralda cigars are for people who love a woody, sweet blend.

• Will I want to smoke it to the nub?
o You're getting plenty of reason to enjoy it all the way!

• What's a good pairing with it?
o That malt suggestion is one we can't deny.

• What's the best time/place to smoke this cigar?
o When you're feeling like life is too dull and needs some sparkle.

• Any flaws/downsides?
o Expensive.
Payment & Security
Your payment information is processed securely. We do not store credit card details nor have access to your credit card information.