Dunbarton StillWell Star Navy No.1056 Toro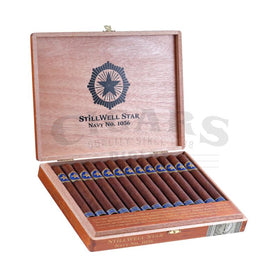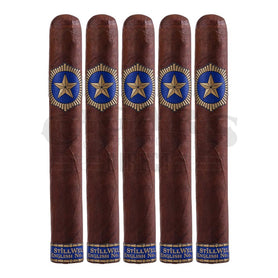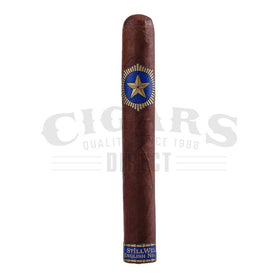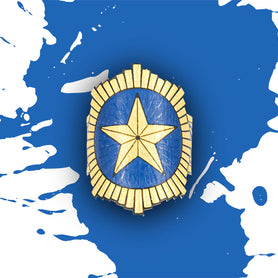 Dunbarton StillWell Star Navy No.1056 Toro cigar is made in Nicaragua. Outside, you'll find an Ecuadorian Habano wrapper. Inside, the binder is San Andres, and the filler is Various. This is a Toro cigar with a length of 6.00 and a ring gauge of 52.
The Dunbarton StillWell Star Aromatic Navy 1056 blend is the product of an experiment that company founder Steve Saka has been conducting for years on his personal cigars: what happens when you include some pipe tobacco in your stogie?

Saka's not the only one to have this idea. It's been done before, even at his prior company, Drew Estate (he served as President years ago). But this time, things are different. Saka aimed high with this line, trying to avoid what he saw as the downfalls of other pipe tobacco cigars. In his opinion, they are "unbearably sweet, utilize marginal pipe and cigar tobaccos, and are rather simple, heavy-handed blends that afford the smoker little sophistication or balance."

This falls short of the sophisticated standard that prevails at the top end of the cigar market. In fact, Saka calls the StillWell Star line the first "luxury pipe tobacco cigar." So that gives you a sense of what he's aiming for here – quality levels that he has not yet seen on the market.

Now, as much as Saka loves pipe tobacco, that's not the business he's in. To get the good stuff, he needed a partner. Enter Jeremy Reeves, head blender of Cornell & Diehl pipe tobaccos. Together, the two created the Dunbarton StillWell Star line, which is built on the concept of a solid cigar to which high-quality pipe tobacco is added.

Each of the 4 blends in the StillWell Star line is built on the same cigar foundation. This is an Ecuadorian Habano wrapper, a Mexican San Andrés binder, and a three-country blend of long-fillers. For the Navy 1056, Dunbarton added "a crumble cake of stoved Red and Golden Virginia tobaccos with a touch of "Naval Rations," combined with Orientals and Latakia expertly blended with dark air-cured black cigar leaf."

To call it a mouthful is an understatement! This is a highly complex blend with a ton of flavor.

Light it up, take a draw, and you're invited to a pipe tobacco BBQ with brisket cooked over mesquite. Notes of leather, allspice and cinnamon hot chocolate come from every angle, making the Dunbarton StillWell Star Aromatic Navy 1056 a fairly special experience. The core cigar tobaccos would have been decent on their own, but when the Virginia pipe leaf is added, along with the smoky Latakia, the blend reaches a whole new level.

Only you cigar lovers can say whether the Navy 1056 hits the mark and avoids the usual pitfalls Saka complained of with other pipe tobacco stogies. We think this line is an interesting addition to any humidor, offering something different for times when you want novel flavor notes or a little reminder of the pipe-smoking grandpa or uncle you might have known long ago.

Please browse our selection of Dunbarton StillWell Star Aromatic Navy 1056 cigars at your leisure.

- What are the flavors like? Barbeque brisket, mesquite, leather, cinnamon hot chocolate.
- What's the strength level? Medium.
- Who is this cigar for? Dunbarton StillWell Star Aromatic Navy 1056 cigars are for people who want a different kind of flavor in their next smoke that you just can't get anywhere else.
- Will I want to smoke it to the nub? With one interesting note after the other, this one keeps you hooked.
- What's a good pairing with it? A traditional drink, in a nod to the pipe smokers of yesteryear. We could go almost any direction here, but a Rob Roy with scotch, sweet vermouth, and bitters would be a good companion to the Navy 1056.
- What's the best time/place to smoke this cigar? On a visit to your grandad's, dad's, or uncles.
- Any flaws/downsides? If you want this thing to be all pipe notes, it won't really be that. This is still a cigar, first and foremost.

Payment & Security
Your payment information is processed securely. We do not store credit card details nor have access to your credit card information.