Drew Estate Natural 6 Cigar Sampler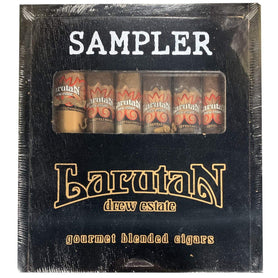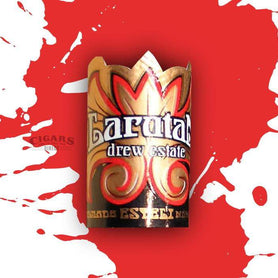 The Drew Estate Natural 6 Cigar Sampler is a showcase of the strange and mysterious cigars that Drew Estate calls their "Natural" or "Larutan" line (as it was renamed). We don't get tons of details about each one. Instead, picking up a Drew Estate Natural sampler requires you to go on a little adventure.

The good news is - with Drew Estate, you're in good hands.

The Natural line was built to showcase interesting and exotic tobaccos from around the world, including places like Spain, Italy, Turkey, and the home of perique pipe tobacco, Louisiana. You never know quite what you're going to get in terms of the leaf used in each cigar, but you can identify which ones you like best.

The Drew Estate Natural 6 Cigar Sampler includes:

1 - Natural Dark Angel (6.50 x 54)
1 - Natural Root (5.00 x 55)
1 - Natural Root Deluxe Tubo (6.00x 50)
1 - Natural Dirt (4.00 x 43)
1 - Natural Big Dirt Torpedo (5.00 x 54)
1 - Natural Clean Robusto (5.00 x 50)

While we don't have exact details for each Natural or Larutan blend, we know enough about each one to give you a preview.

Root and Root Deluxe, the Root cigar very likely has some perique tobacco in it, due to the fruity note most people detect. There's also a nice pepper tingle and some finishing sweetness thanks to the Maduro wrapper. The Root Deluxe is a larger version that comes in a tube.

Dark Angel, this Natural cigar is all about that sweet, Sumatra Maduro wrapper. Exotic earthy flavors make it memorable.

Dirt and Big Dirt, this one is famously addictive. The Nicaraguan Maduro is fermented to perfection and an infusion process may have been used to give the cigar its potpourri-like flavors. Not overpowering. Fascinating, and a touch sweet.

Clean Robusto, there are a lot of flavors here, but we can't at all put our finger on what's going on. It's a rich and sweet smoke, and a fine way to finish off this Drew Estate Larutan sampler.

Curious about the Natural / Larutan line? This is a decent way to get a puff of a few of the blends and experience whatever the mad cigar scientists over at Drew Estate are blending up in their tobacco laboratory down in Esteli, Nicaragua.

Please enjoy the Drew Estate Natural 6 Cigar Sampler at your leisure.

Payment & Security
Your payment information is processed securely. We do not store credit card details nor have access to your credit card information.