Drew Estate Liga Privada H99 Phineas Gage Lancero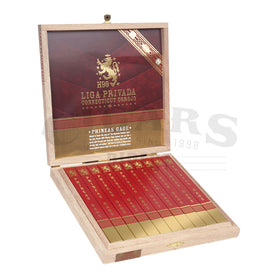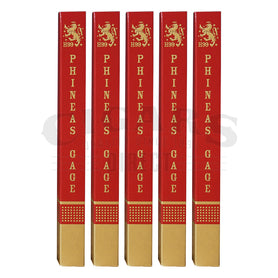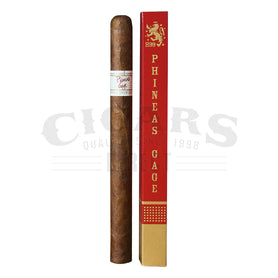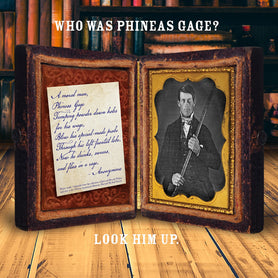 This Drew Estate Liga Privada H99 Phineas Gage Lancero cigar is made in Nicaragua. Outside, you'll find a Connecticut Corojo wrapper. Inside, the binder is Mexican San Andres, and the filler is Nicaraguan and Honduran. This is a Corona cigar with a length of 7.00 and a ring gauge of 40.
Drew Estate Liga Privada H99 Phineas Gage cigars are a potent experience, fully in line with what we've expected from Ligas.

For those unfamiliar with the blend, the original Liga Privada No. 9 was one of Drew Estate's most famous blends in earlier years. Drew Estate teams in Estelí, Nicaragua, have been rolling up offshoot blends ever since, including the H99, which featured a hybrid Corojo crossed with stalk-cut Habano designed for growth in the Connecticut River Valley. It was developed in-house by master blender (and now tobaccosmith) Willy Herrera.

H99s have performed well – too well – so finding available inventory is always challenging. This time around will probably be no different, but if you notice it in stock, grab it. Or, click the "notify on restock" button to be among the first to jump on a fresh shipment.

The filler blend is Nicaraguan and Honduran tobacco, bound with a Mexican San Andrés negro leaf. The wrapper is the famous Connecticut Corojo H99 hybrid leaf, built to deliver all the flavor we love from Corojo without suffering from its drawbacks in the field. One grower in Connecticut is tasked with raising this crop out of the soil, and we don't envy the pressure that farm must be under to come up with something truly worthy of the Liga name!

Drew Estate Liga Privada H99 Phineas Gage cigars are spicy and complex, just like you'd expect. These things never pull a single punch. You get a roasted tasting board of grilled meat, sourdough bread and butter, oiled leather, and aromatics. As you go through this long stogie, you'll get sweetness later in the session. It's a cigar for flavor junkies who want a cigar that eats like a meal and delivers on the hype. Trust Drew Estate to get the job done on a concept like this, folks.

As for the namesake, Phineas Gage was a real man who, unfortunately, became an all-time case study for psychologists. He suffered an accident working on the railroad in which explosives sent an iron rod through his head. It damaged a significant portion of his brain and led to a complete change in personality, helping shed light on the parts of the brain responsible for things like emotion and impulse control. Smoke this Lancero, and be thankful something thrice its size wasn't shot through your own grey matter.

As we know, a mind is a terrible thing to waste.

Please browse our selection of Drew Estate Liga Privada H99 Phineas Gage cigars at your leisure.

• What are the flavors like?
o Charred meat, bread, leather, aromatics.

• What's the strength level?
o Full.

• Who is this cigar for?
o People who need a cigar that brings it every time.

• Will I want to smoke it to the nub?
o If you're a fan of flavor fiestas.

• What's a good pairing with it?
o Beer. Something with Octoberfest in the name seems like a good match for this hearty smoke.

• What's the best time/place to smoke this cigar?
o When you're losing your mind or appreciating the fact that yours is still functioning.

• Any flaws/downsides?
o This complex cigar doesn't mess around and is absolutely a full-strength smoke. Plan accordingly.


Payment & Security
Your payment information is processed securely. We do not store credit card details nor have access to your credit card information.