Drew Estate Liga Privada H99 Papas Fritas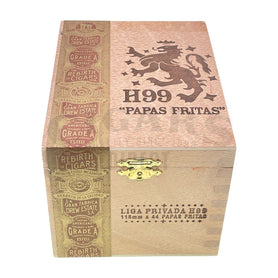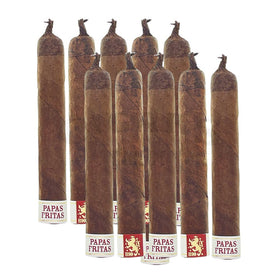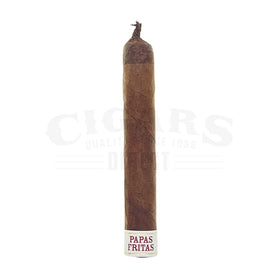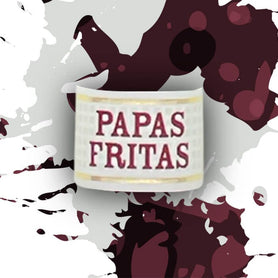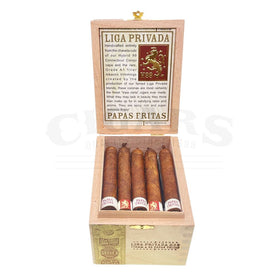 The concept of papas fritas ("fried potatoes") comes from the Unico series of Liga blends. The idea was to roll up a smaller cigar for brief smoke breaks using not just long-leaf tobaccos, but also some of the trimmings from high-end Liga blends. Why let a single ounce go to waste, right? In a world where supplies are always limited and inventory is subject to stock outs, Drew Estate found a way to ensure that a bit more of that sweet, sweet Liga smoke would hit the market.

There's just never enough of it to go around, so get it while the gettin' is good.

Part of the reason is that the wrapper leaf for these Liga Privada H99 Papas Fritas cigars is only grown by one farmer, and it's exclusively used for this line only. The wrapper is Connecticut corojo tobacco, hybridized for heartiness with habano. This helps improve the yield of a leaf that is known for being fragile and tough to grow successfully. The reason anyone bothers is that corojo offers a flavor that is such a treat to smoke – it makes it worth it to dedicate some acreage to its cultivation.

Under the signature H99 wrapper leaf, you'll find the Mexican San Andrés otapan negro ultimo corte binder. This cradles a delicious long-filler blend with tobaccos from Honduras, Nicaragua, and Pennsylvania (Green River One Sucker).

Sound like a flavor bomb? It IS a flavor bomb, according to Drew Estate Master Blender Willy Herrera. He's happy to welcome it into the fold, saying that this blend is "yet another expression of the Papas Fritas family, but this time with the coveted Corojo hybrid wrapper that's on the H99."

This 4 1/2 x 44 petit corona is perfect for a short cigar break when you need a big flavor in a tiny package. You'll taste wood, baking spice, cherry, fig, and coffee with brown sugar. Like all Liga smokes, it brings earthy notes, spice, dark fruits, and often sometimes more.

Liga locos, your next vitola has arrived!
This Drew Estate Liga Privada H99 Papas Fritas cigar is made in Nicaragua. Outside, you'll find a Connecticut Corojo wrapper. Inside, the binder is Mexican San Andres, and the filler is Nicaraguan and Honduran. This is a Petit Corona cigar with a length of 4.50 and a ring gauge of 44
Please browse our selection of Drew Estate Liga Privada H99 Papas Fritas cigars at your leisure.

• What are the flavors like?
o Wood, baking spice, cherry, fig, and coffee with brown sugar

• What's the strength level?
o Medium-full

• Who is this cigar for?
o They're for Liga locos and anyone who loves spicy, earthy blends

• Will I want to smoke it to the nub?
o It's lip-smackin' good!

• What's a good pairing with it?
o H99 Papas Fritas cigars pair well with dark beer and whiskey cocktails.

• What's the best time/place to smoke this cigar?
o These cigars are great at barbeques.

• Any flaws/downsides?
o Supplies are always too limited with these hot Liga blends.
Payment & Security
Your payment information is processed securely. We do not store credit card details nor have access to your credit card information.