Drew Estate Ambrosia Clove Tiki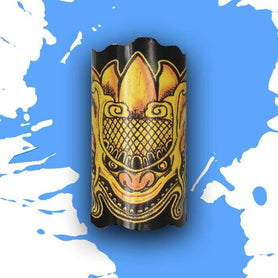 This Drew Estate Ambrosia Clove Tiki cigar is made in Nicaragua. Outside, you'll find a Colorado Claro wrapper. Inside, the binder is Nicaraguan, and the filler is Nicaraguan. This is a Cigarillo cigar with a length of 4.00 and a ring gauge of 32.
A little tiki torch to smoke on a cool summer night…

The Ambrosia Clove Tiki is pure Drew Estate – infused flavors, a fun concept, and an enjoyable smoke that defies convention. While many cigar makers are stressing about how to perfectly preserve tradition, the Drew Estate team is often simply trying to make a bomb smoke that you'll love and that nearly anyone can enjoy, even if they don't smoke cigars.

This is a handout cigar, and at 4 x 32, it's not that hard to pick up and put down. It only takes around 20-30 minutes to take to a nub, so it's a great breaktime smoke or something to enjoy along with a single drink.

The Drew Estate Ambrosia Clove Tiki cigar isn't like other cigars in your humidor. It's made with some nice Nicaraguan tobacco, and either features clove leaf or is flavored with clove spice during a Drew Estate infusion process. It's finished with a Sumatra wrapper to add to the exotic Pacific island mystique.

Drew Estate has always been tight lipped about how infusions work, but it's possible that this one was prepared along similar lines to an ACID. Southeast Asian spices definitely fill the bouquet you get off this one, even just when smelling it cold. Word on the street is that this one is infused for a few months and then stored in cedar cabinets for further aging after that. The sweet tip completes the classic Drew Estate profile.

Light up the Drew Estate Ambrosia Clove Tiki cigar for a smooth and mild smoke that is sweet and has hints of spice like a holiday pie. It's an experience that's unlike whatever else you have going in your humidor.

Tiki, for those who are wondering, is inspired by the traditional wood carvings of Pacific Islanders. It caught on in the states thanks to Don's Beachcomber, a bar and restaurant in LA in the 30s that helped popularize the concept of a "tiki bar," which was a trend for a time. The Drew Estate team can't resist an aesthetic with lots of personalities – there's too much colorful art in the company's DNA at this point. And so now we have a tiki-inspired cigar with notes of clove, spice, and lots more.

Please browse our selection of Drew Estate Ambrosia Clove Tiki cigars at your leisure.

- What are the flavors like?  Sweet spiced holiday pie

- What's the strength level?  Medium

- Who is this cigar for?  Drew Estate Ambrosia Clove Tiki cigars are for smokers who want "the ultimate clove experience"

- Will I want to smoke it to the nub?  It's a really fun flavor

- What's a good pairing with it? A zombie, mai tai, painkiller, or any such drink

- What's the best time/place to smoke this cigar? On the beach, of course!

- Any flaws/downsides? These flavors are out there.
Payment & Security
Your payment information is processed securely. We do not store credit card details nor have access to your credit card information.