Drew Estate Acid Krush Classic Morado Maduro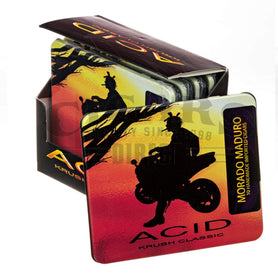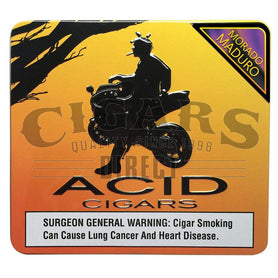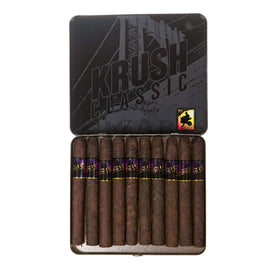 This Drew Estate Acid Krush Classic Morado Maduro cigar is made in Nicaragua. Outside, you'll find a Connecticut Broadleaf Maduro wrapper. Inside, the binder is Nicaraguan, and the filler is Nicaraguan. This is a Cigarillo cigar with a length of 4.00 and a ring gauge of 32.
Drew Estate ACID Krush Classic Morado Maduro cigars come from the "purple" family of ACIDs, as the band indicates. This is Drew Estate's way of saying that the infusion meter was turned up high. While golden and silver-banded ACIDs have very little infusion, these are at the opposite end of the spectrum.

If you're down with sweet florals and botanicals, these cigarillos will be a total treat.

The tins come with 10 smokes, each 4 x 32. Needless to say, these are not big cigars. Instead, these are quick break smokes. They're perfect for short drives, 15-minute stops, or other times when you can't spend an hour kicking back with a big stogie. Drew Estate ACID Krush Classic Morado Maduro cigars are convenient cigar which is one of the things people love about them.

Then there's the flavor!

Drew Estate ACIDs are a different kind of cigar entirely. Often imitated, but never duplicated. They're the flavor-infused blend that put Drew Estate on the map, in the early years. ACIDs helped launch the brand, really. It all came down to a fairly sophisticated method for flavoring stogies. While people might be focused on dipping or injecting, Drew Estate chose infusing. The exact process is unknown, but we do know that it can involve over a hundred herbs, botanicals, and essential oils.

The filler tobacco itself is Nicaraguan, which is no surprise from DE. But because this is the Drew Estate ACID Krush Classic Morado Maduro, you're getting a special wrapper. It's a dark broadleaf from one of the world's best companies when it comes to that rough and rustic CT tobacco. The flavor profile is chocolatey earthiness meets flowers, kissed with honeydew nectar on the finish.

It's a cigar that's totally unique. Give it a shot and see if you become another smoker captured by the magic of ACID.

Please enjoy Drew Estate ACID Krush Classic Morado Maduro cigars at your leisure.

- What are the flavors like? Earthy chocolate, flowers, honey nectar.

- What's the strength level? Medium.

- Who is this cigar for? Drew Estate ACID Krush Classic Morado Maduro cigars are for people looking for a big infused flavor in a little format.

- Will I want to smoke it to the nub? If you're ready for a botanical flavor party, then yes.

- What's a good pairing with it? If you have time, how about wine? A small glass of Bonnaventure Château de Coulaine Chinon Rouge 2020 would be outstanding as a pairing.

- What's the best time/place to smoke this cigar? A break on a motorcycle ride is always popular with ACID Krush Classics.

- Any flaws/downsides? The infused flavors just don't land with some people.
Payment & Security
Your payment information is processed securely. We do not store credit card details nor have access to your credit card information.