Drew Estate Acid Krush Classic Green Candela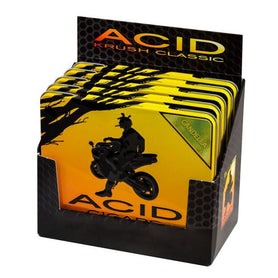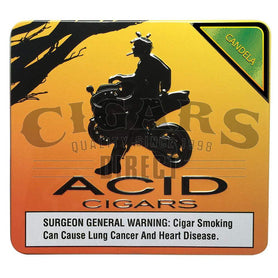 This Drew Estate Acid Krush Classic Green Candela cigar is made in Nicaragua. Outside, you'll find a Candela wrapper. Inside, the binder is Nicaraguan, and the filler is Nicaraguan. This is a Cigarillo cigar with a length of 4.00 and a ring gauge of 32.
Drew Estate ACID Krush Classic Green Candela cigars are a tin of green goodness. There are ten 4 x 32 cigarillos that are perfect for short breaks. These tiny cigars only take around 5-15 minutes to smoke, depending on how fast you go. They fit perfectly into little drives, small breaks at work, and other times when you just don't have that hour plus to kick back with your cigar.

For those not familiar with ACID, these are infused cigars with a unique flavor profile. Herbs, botanicals, and essential oils are all part of the infusion blend. No one knows exactly how Drew Estate does it, but the aromas and flavors imparted to the tobacco are one of a kind. There's no dipping or injecting with the Drew Estate ACID Krush Classic Green Candela cigar. Instead, a subtle but highly intriguing set of notes is married to the cigar. You can smell it immediately on opening the tin – a floral and sweet smell that is nothing like any other stick in your humidor.

These Krush Classic tins are available in a number of wrappers, colors, and flavors. This is the green candela version, with a nice mild profile. The taste of a nice naturally sweet cup of tea is probably the best way to describe the smoke from this one. Drew Estate color codes their ACID blends, and the green band here indicates not just candela, but also that we're at a medium infusion level. Purple and red are both more intense than this when it comes to infusion notes.

Like many Drew Estate blends, this one is made with high-quality Nicaraguan tobacco.

A final note on candela wrappers: the cover leaf on these Drew Estate ACID Krush Classic Green Candela cigars is green. That's because it was heat-cured rapidly after harvesting, instead of letting it hang and cure more slowly. This causes the chlorophyll to become locked into the leaf, preserving the green color of the field. Other tobacco is allowed to turn that rich brown color. That's the difference that gives cigars like this the grassy, tea-like flavors candela blends are known for.

Please enjoy Drew Estate ACID Krush Classic Green Candela cigars at your leisure.

- What are the flavors like? Naturally sweet herbal tea.

- What's the strength level? Mild.

- Who is this cigar for? Drew Estate ACID Krush Classic Green Candela cigars are for smokers who need an interesting smoke that fits into a short window of time.

- Will I want to smoke it to the nub? The flavor profile of this cigar is out of left field. We have honestly no clue if it will land with people. ACIDs just aren't like anything else in your humidor.

- What's a good pairing with it? Something earthy to ground the blend might work. Let's get crazy with a Yuengling Hershey's Chocolate Porter.

- What's the best time/place to smoke this cigar? At an outdoor brewery while you wait for food.

- Any flaws/downsides? The flavors are unusual and will not be everyone's cup of green tea.
Payment & Security
Your payment information is processed securely. We do not store credit card details nor have access to your credit card information.