ACID 20 Year Anniversary Maduro Robusto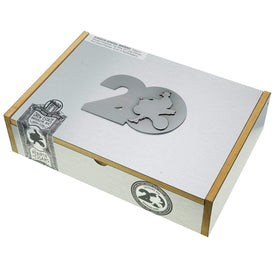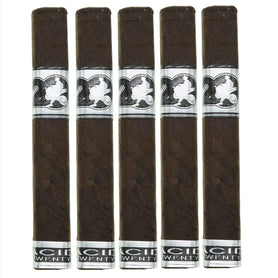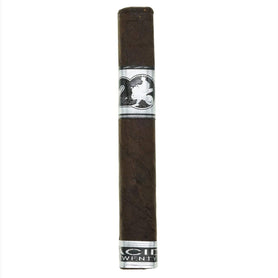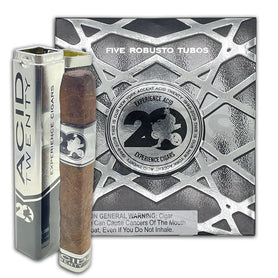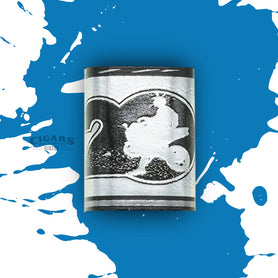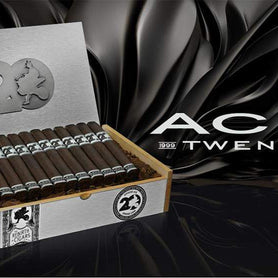 The ACID 20 Year is an addition to the regular ACID lineup in honor of the 20th anniversary. That means that this stick could become your new favorite and you'll be able to enjoy it for years to come, which is great news because it seriously delivers on 20 years of cigar making expertise.

One look at these beauties and you know you're in for a treat. The incredibly dark and rich San Andres wrappers look exactly like rich, dark chocolate fudge. Lift the hood and you'll find the same Indonesian binder and Nicaraguan long-fillers as in the Kuba Arte. As you'd expect, this means that the ACID 20 Year has the same robust medium-bodied character as the Kuba Arte. But the San Andres wrapper adds a refreshing burst of sweetness, earth, and cocoa that lingers on the palate. Add the trusty ACID herbs and botanicals, and you're in for one heck of a treat.

This amazing boxed pressed robusto is packaged in a killer silver blinged out box with steel ACID 20 Year badge inside and outside.
Rated a stellar 95 in August of 2019 by Blind Man's Puff
When he founded Drew Estate in the '90s, Jonathan Drew had a vision. He was a true cigar aficionado who regularly smoked premium stogies and was fascinated by the craftsmanship behind his favorite blends. He dreamed of creating his own masterpieces, cigars that would be smoked and adored by thousands of cigar lovers worldwide. But he was also known to hit up the gas station and smoke a few flavored cigarillos with his neighborhood friends.

Jonathan knew that his cigar buddies would sneer at the idea of lighting up one of these cigarillos and that his childhood friends thought premium cigars were snobby and exclusive. So Jonathan started Drew Estate with a mind to sometimes bridge the gap between the two worlds and create lines of cigars that would introduce aficionados to flavored cigars, and cigarillo smokers to premium tobacco and full-sized cigars.

He developed a new and unique infusion process to create a different kind of flavored cigar. He blended premium tobaccos from around the world, using exclusively long-fillers (a first for mainstream flavored cigars), and then placed the finished cigars in aging rooms filled with herbs, spices, and pots of essential oils. The tobacco sucked up the scents and flavors like a sponge to create a purer and more natural flavored cigar. Finally, he lightly sweetened the tip to accentuate the floral bouquet from the infusion. ACID was born.

And they were a total hit. Some snobs still turn up their noses at ACID but the people have spoken: Jonathan created something special. ACID has converted thousands of cigar smokers to add flavored cigars to their rotation and served as the perfect gateway to get thousands more into the cigar hobby. ACID was so popular that other brands have followed his lead, creating lines such as CAO Flavours and Nub Nuance.

2019 marked 20 years since Jonathan Drew and his team fundamentally changed the cigar industry. They decided they had to do something special to celebrate the anniversary of the ACID line, so they came out with two new cigars: the limited-edition Kuba Arte and the general release ACID 20 Year.

Just picking up the ACID 20 Year Anniversary, you can tell that it is something special. It is severely box-pressed and features a rare hammerhead cap, making it as rectangular as possible. Fans of the CAO Flathead will be familiar with the shape but the ACID 20 Year is more elegant with its dark wrapper, 5x52 vitola, and stamped-metal band. It's firmer than most ACID cigars too a hefty, serious cigar that happens to also be infused. But don't worry, it still has a nice open draw so you can still produce the characteristic ginormous clouds of aromatic smoke that we know and love from the ACID line.

The folks at Drew Estate spared no expense or attention to detail when creating this blend either. All of the tobaccos are top-notch, from the premium Nicaraguan long-fillers and Indonesian Sumatra binder to the oily and enticing San Andres Maduro Wrapper. Toast the foot, light it up, and get ready to enjoy a complex cigar whose natural tobacco flavors are highlighted by the subtle herbal infusion. The wrapper delivers plenty of chocolate, nuts, and wood, while the binder adds a nice sweetness and the earthy long-fillers give a nice dose of pepper on the palate and retrohale.

The infusion adds floral notes, plus some orange rind and menthol which show up in the aroma as much as the palate. Once the sweetened tip wears off, it's hard to tell that the cigar is even flavored. It just has a certain, indefinable something that makes it more complex than normal cigars. Whether you're an ACID fan or not, you'll find plenty to love in the ACID 20 Year. It's just a great all-around cigar that makes the perfect intro to ACID for traditional cigar smokers or entry into natural cigars for flavored cigar fans.
Customer Reviews
Write a Review
Ask a Question
Payment & Security
Your payment information is processed securely. We do not store credit card details nor have access to your credit card information.