Diesel Unholy 5-Star Sampler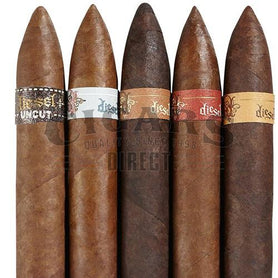 The Diesel Unholy 5-Star includes:

1 - Diesel Unholy Cocktail Torpedo (5" x 56)
1 - Diesel Uncut Torpedo (5" x 56)
1 - Diesel Unlimited Torpedo (5" x 56)
1 - Diesel Unlimited Maduro Torpedo (5" x 56)
1 - Diesel Hair of the Dog Torpedo (5" x 56)
A.J. Fernandez is a long way from the spiritual purity of Ave Maria with this Diesel Unholy 5-Star Sampler. Are you surprised to learn that he's the original blender behind both? You shouldn't be, A.J. Fernandez has got his tobacco-stained fingers in half the blends on the market, it seems.

In general, Diesel is a brand that's known for decently potent and spicy blends. There's a core of reliable Nicaraguan tobacco (an A.J. Fernandez signature choice) in many cigars, but you'll also find leathery broadleaf and rich Honduran tobacco in a number of blends, adding character and flavor.

In the Diesel Unholy 5-Star Sampler, you get five beautiful 5 x 56 torpedoes. If you can't see the picture, the sides of these torpedo cigars are straight, but the heads taper to a point, so you can clip however much you like. This lets you choose how loose or tight you want your draw, and offers you a concentrating effect on the smoke before you get each puff. The flavors are brought together, allowing you to experience them as one instead of in a more diffused manner.

But enough sophisticated cigar science.

Let's first pull out the Diesel Unholy Cocktail, a Nicaraguan cigar with an earthy Pennsylvania broadleaf wrapper on it. Most people think of this one as meaty and woody, which leads us to classify it as one of our "BBQ cigars". It's a good smoke for times when you're not in the mood for smooth, coffee flavors, and instead want something hearty and spicy. There's nothing Unholy about it as far as we can tell, no sin in enjoying a cigar this tasty.

Next up is the Diesel Uncut, another blend that mixes high-quality Nicaraguan leaf with the personality of Pennsylvania broadleaf. The stick was created to offer people a more affordable taste of the blend, so you can put it right up against the Unholy Cocktail and see if you can tell the difference. It starts with spice, which you might expect from A.J. Fernandez cigars, and then evolves into a profile with humble flashes of milk chocolate. We find it to be a solid smoke in the Diesel Unholy 5-Star Sampler for sessions when you don't want anything too fancy or special and you just want to roast some tobacco.

After that, you can revel in the Diesel Unlimited and the Diesel Unlimited Maduro. The Unlimited blend was the follow-up to the original Diesel. Both versions are built around Nicaraguan and Mexican San Andres tobacco. The difference comes in the wrapper. While the natural version features Ecuador Habano leaf (more specifically, Ligero), the Maduro version goes back to Pennsylvania broadleaf to complete the blend.

The Unlimited Maduro comes in with red pepper, then shows toffee sweetness, dark cherries, and leather. The natural Diesel Unlimited, on the other hand, comes in more oaky and bright. This is another great pairing of cigars for comparison, offering an opportunity to see how a wrapper leaf changes the taste of a blend.

Last in the Diesel Unholy 5-Star Sampler is the Diesel Hair of the Dog. Would you be surprised to hear that this scraggly-sounding cigar earned a 90 rating with Cigar Aficionado? The flavor notes might surprise you as they come in with toffee and milk chocolate, but also lighter, more delicate notes like bark tea (old school campers may know what we're talking about here).

The core blend of the Hair of the Dog is Nicaraguan Habano, which is then rolled into a more exotic Ecuador Sumatra binder, before being finished in Ecuador Habano tobacco. This combines the Cubanesque flavors of classic cigars with the far-east-inspired notes of Indonesia.

If you're a fan of torpedoes or just want a shot at some tasty and flavorful Diesel blends, the Diesel Unholy 5-Star Sampler is the pack to grab.

Please enjoy this assortment at your leisure.

Payment & Security
Your payment information is processed securely. We do not store credit card details nor have access to your credit card information.