Diesel Sideshow Cigar Sampler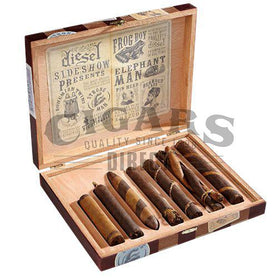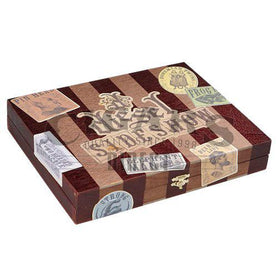 Diesel Sideshow Sampler includes:

1  - Diesel Frog Boy (4.5 x 60)
1  - Diesel Pin Head (5 x 54)
1  - Diesel Two-Headed Nightingale (6 x 60)
1  - Diesel Bearded Lady (6 x 46)
1  - Diesel Elephant Man (6 x 52)
1  - Diesel Bohemian Twins (7 x 38)
1  - Diesel Strong Man (7 x 58)
Step right up, yes step right up! Don't crowd folks, there's plenty of room for everyone to see the Diesel Sideshow cigar sampler!

In a cigar world governed by traditions that are often stifling, confining, and even boring, the Diesel Sideshow cigar sampler is bringing you oddities and entertainments that defy convention, that boggle the mind, and that challenge everything you know about proper cigar making.

Feast your eyes and your lighters on the Diesel Bohemian Twins and their Culebra entanglement! If you pull them apart, will they survive? Only buyers of this strange and mysterious assortment will ever know. One twisted stick is smooth and cedary, the other spicy and cocoa-y. Smoke them side by side or one after the other? It all depends on your desire for experimentation.

Gasp in terror at the unsightly form of the Diesel Elephant Man! His winding trunk wraps around the entirety of his length, forcing us to ask what kind of a Maker would inflict such tortured disabilities on his human children. Marvel at the surprising balance of this fascinating cigar when you smoke it if you can find the courage to face it alone.

The Diesel Sideshow cigar sampler continues with the enigma of the Diesel Bearded Lady. Is she a man? Is she a woman? Is she just a tasty cigar? Smokers can ponder the truth as they toast up her shaggy foot. She starts out spicy and mellows out as you get to know her. Expand your idea of what a man and woman really are with this undefinable cigar.

Her partner, the Diesel Strong Man, is a long one with a barber pole stripe. He's nutty and potent, showing off the years of dedication to increasing his fortitude. Few cigars can match his power as he delivers his mighty nicotine punch. Eat a meal before you take him on. Not many can hope to beat him in a contest of strength.

The Two-Headed Nightingale is truly the beauty of the Diesel Sideshow cigar sampler. Her barber-pole style stripe shows what adorable adornments nature has to offer when she's experimenting. This cigar is oaky, nutty, and is aptly named a perfecto. She brings natural smoothness and mature sweetness, all in one flavorful package.

Can you handle more mutations? The freakish nub of the Diesel Pin Head sits atop a fine broadleaf Maduro cigar. Espresso, licorice, and cherries make for a fantastically enjoyable blend if you can accept the Pin Head's startling shape.

Last in line in the Diesel Sideshow cigar sampler is the stubby Frog Boy. Don't expect him to play nice. Years of verbal and physical abuse by the crowd have made him cruel, and red pepper is his chief note. Show him kindness, and he may develop in his second third.

The Diesel Sideshow cigar sampler is an offshoot of the Diesel Unlimited line, which came in natural and Maduro versions. The Natural featured a robust Habano Ecuador Ligero wrapper, along with a spicy blend of Nicaraguan and Mexican long-fillers. Its partner, the Maduro, used a Pennsylvania broadleaf wrapper and reached full strength with a Mexican San Andres binder and Honduran and Nicaraguan tobacco inside. It was a black pepper dominant, leathery blend.

If you've got a taste for something interesting, this assortment will show you what lies at the edge of nature, and beyond.

Please enjoy the Diesel Sideshow cigar sampler at your leisure.
Payment & Security
Your payment information is processed securely. We do not store credit card details nor have access to your credit card information.