Diesel Crucible Limited Edition Toro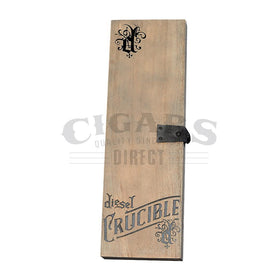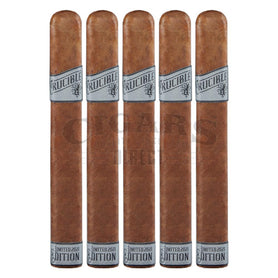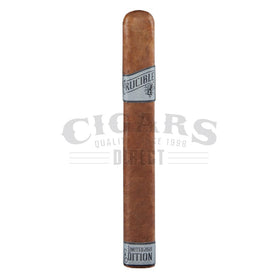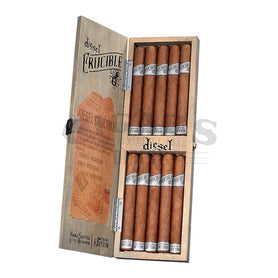 The Diesel Crucible cigar is the third installment in the "Elixir" trilogy, which started with Hair of the Dog, progressed into Delirium as a second offering, and is now culminating with this powerful tobacco mix.

This blend was made in collaboration with A.J. Fernandez and was produced at his factory in Esteli, where so many fantastic cigars have been conceived and rolled up for our enjoyment. This time around, we're not getting a Nicaraguan puro, as A.J. reached into Honduras for some of the long-filler tobacco and ordered up the wrapper from Ecuador. It's a classic Habano seed leaf grown in Ecuador's perfect partial cloudy shade, and it brings flavors that we've all been loving for decades.

The limited-edition Diesel Crucible cigar is offered in a pretty snappy box, too. That is, the box has a snap strap on it. Pop it open and you'll see ten tasty toros (6 x 50) lined up in rows. If you've been smoking the other blends in the series, this is definitely a strong finish to a potent line of cigars.

Our lighters are itching just thinking of it (and smelling that lush wrapper aroma).

Light up the foot and you'll see just how full-bodied the Diesel Crucible cigar really is. It's got red pepper, spice, and leather that bring together some of the best notes you can get using sophisticated blending methods. As we said above, we're out of A.J.'s usual Nicaraguan puro style and into some very rich and complex tobaccos. Taken together, you're getting a flavor profile that is satisfying and that has layers of intriguing notes. You really won't want to put this one down once you get it going, and it could well be the best of the whole Elixir series for some folks.

The tobacco is well-aged, but we don't expect this one to rest on our shelves for a single minute, really. If you're interested in Diesel Crucible cigars, get yours ASAP. Limited edition blends like this just get grabbed up way too fast to wait. We know because our grubby mitts were the first ones into the crate!
This Diesel Crucible Limited Edition Toro cigar is made in Nicaragua. Outside, you'll find an Ecuadorian Habano wrapper. Inside, the binder is Nicaraguan, and the filler is Habano Jalapa. The Diesel Crucible Limited Edition Toro is a Full strength Toro shaped cigar with a length of 6.00 and a ring gauge of 50.
Please enjoy our selection of Diesel Crucible cigars sooner, rather than later.
- What are the flavors like?
 Red pepper, spice, leather.
- What's the strength level?
 Full.
- Who is this cigar for?
   The Diesel Crucible is for people who love a complex and full-bodied cigar.
- Will I want to smoke it to the nub?
   If you're a flavor junkie, you've come to the right place.
- What's a good pairing with it?
   This would be fine with a nice IPA. Try a frosty Port Brewing Wipeout.
- What's the best time/place to smoke this cigar?
   When you're in the mood for a cigar that brings the heat. This is a tasty one!
- Any flaws/downsides?
   As always, limited editions are smoked up as soon as we get acquainted with them, and then they're gone. Thankfully, the blenders stay busy or we'd be sitting with broken hearts and empty humidors.
Payment & Security
Your payment information is processed securely. We do not store credit card details nor have access to your credit card information.