Davidoff Signature Series No.1 L.E. 2023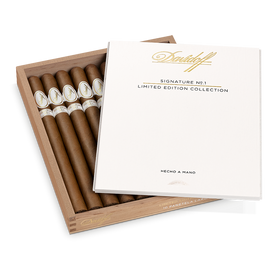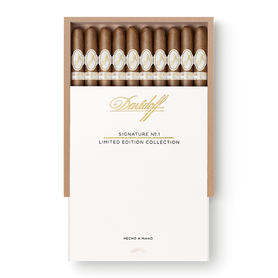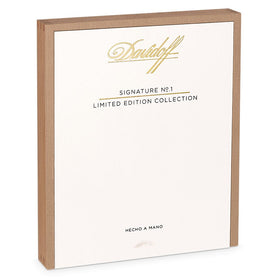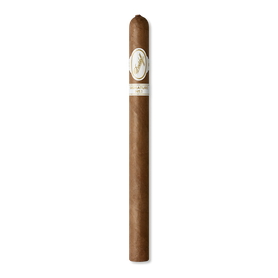 The classic Cuban Davidoff No.1s out there in the world are still sought after by collectors who love aged tobacco. It's a cigar with a storied reputation, built in part on the innovative and memorable lancero + pigtail construction. But the more recent blends were discontinued in 2016, leaving people with only the memories to go on.

Davidoff Signature Series No.1 L.E. 2023 cigars bring it back, allowing modern aficionados a chance to enjoy a blend that has had a dedicated following for many years.

This new incarnation is a panatela larga. It looks long, and it is at 7 and a half inches. But the thinness of the 39 ring gauge leads to it being a surprisingly brief smoke. It offers sophisticated pleasure, but clocks in at somewhere around 35-45 minutes for most smokers.

The blend is a meticulous mix that starts off in a straightforward enough manner: a caramel brown Ecuadorian Connecticut wrapper. Then things get interesting. Peel this back to find a binder leaf of "hybrid 151" seco grown in Ecuador. The filler blend is a rich combination of Dominican piloto seco, San Vincente seco, and "hybrid 192" seco. These leaves harvested from the middle of the stalk of the tobacco plant offer a balance of flavor and smoke production.

Speaking of the taste, Davidoff reports that "the flavors are as subtle and enchanting as ever." It's a complex journey, from beginning to end. The Davidoff Signature Series No.1 now begins with an "elegant note of barley," joined by "toasted wheat and oak wood," along with "subtle aromas of white pepper."

And we're just getting started.

Keep drawing for "pleasant creaminess accompanied by complex notes of brown sugar and floral spice". Stick around for the final phase with "notes of cedar wood, dried fruit and black pepper".

A sophisticated experience, as always. This version may just revive the classic after all.
This Davidoff Signature Series No.1 L.E. 2023 cigar is made in the Dominican Republic. Outside, you'll find an Ecuadorian Connecticut wrapper. Inside, the binder is Ecuador - Hybrid 151 Seco, and the filler is Dominican Republic - Piloto Seco / San Vicente Seco / Hybrid 192 Seco. This is a Panatela Larga cigar with a length of 7.50 and a ring gauge of 39.
Please browse our selection of Davidoff Signature Series No.1 limited edition cigars at your leisure.

• What are the flavors like?
o Barley, oak, white pepper, cream, floral spice, and more

• What's the strength level?
o Mild-medium

• Who is this cigar for?
o Davidoff Signature Series No.1 cigars are

• Will I want to smoke it to the nub?
o Most assuredly.

• What's a good pairing with it?
o Café

• What's the best time/place to smoke this cigar?
o Morning

• Any flaws/downsides?
o Not really, no.
Payment & Security
Your payment information is processed securely. We do not store credit card details nor have access to your credit card information.