Davidoff Millennium Lancero L.E. 2023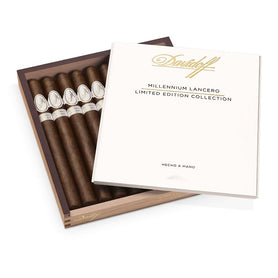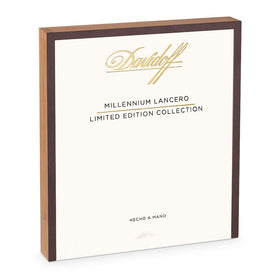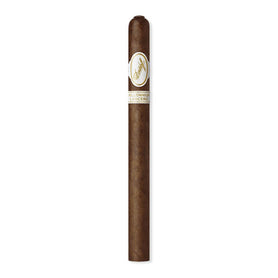 The Davidoff Millennium blend has grown a pretty decent history over the last few decades.
It once marked the momentous occasion that had IT specialists working overtime trying to figure out how to get computers to understand that years went beyond the 1900s. (We probably should have spent that time and energy getting ourselves to just stay in the 1900s along with the computers, but that's a story for another time.) Davidoff's special blend did well, reaching Cigar Aficionado's 2004 best of list, and has been a welcome sight in humidors ever since.
This year, it's different.
Davidoff Millennium limited edition lanceros put together a stellar collection of leaves and have clearly been rolled by the most skilled of hands.
The long-filler blend is a variety of premium Dominican tobaccos, including mejorado seco, piloto seco, San Vicente visus, and Yamasa ligero. Think that's a mouthful? Add in the Mexican Sumatra seco binder, and you're starting to get a picture of what you're in for. The final addition is the classic signature for this stogie: the Ecuadorian hybrid "151" wrapper. Davidoff reports that working this large leaf into such a small ring gauge is a challenge, but one that the torcedores were clearly up for.
Behold – a cigar that's a luxury, even for Davidoff.
The masters of mild like to keep a few tricks up their sleeves, and the limited-edition Millennium lancero is one of them. The flavors are all over the map, in the best possible way. You're getting so much more than then smooth and creamy coffee sticks that the company is known for. The smoke is lush with notes of oak, dark chocolate, nuts and pepper, and a noticeable taste of prunes and licorice. It's a banquet and a flavor bomb only in the number of tastes offered – it's really not the spicy and earthy slap on the tongue you might expect when you hear that term.
This is a refined flavor bomb. A flavor laser-guided munition, if you will.
The millennium change is behind us now, but Davidoff at least has preserved one of the silver linings. They've improved it greatly over the years and turned it into something that, we submit, is worthy of the hefty price tag. It's a fantastic gift cigar or one that you might use to entertain clients who are willing to pay large invoices in your business of choice.
It lives up to its reputation. And in this business, no easy task.
This Davidoff Millennium Lancero L.E. 2023 cigar is made in the Dominican Republic. Outside, you'll find an Ecuadorian wrapper. Inside, the binder is Mexican Sumatra, and the filler is Dominican. This is a Mewdium to Full bodied Lancero shaped cigar with a length of 7.00 and a ring gauge of 40.
Please browse our selection of Davidoff Millennium Lancero limited edition cigars at your leisure.• What are the flavors like?
o Oak, dark chocolate, nuts, pepper, prunes, licorice
• What's the strength level?
o Full (sometimes medium-full)
• Who is this cigar for?
o Davidoff Millennium Lancero limited edition cigars are for those who want a spectacular blend with a wide array of uncommon flavors.
• Will I want to smoke it to the nub?
o It's glorious. Absolutely yes.
• What's a good pairing with it?
o We actually love wine with this one. Cooper Mountain Pinot Noir 2018 is quite good and won't break the bank after you drop a few bucks on these Davidoffs.
• What's the best time/place to smoke this cigar?
o Anywhere you feel stately.
• Any flaws/downsides?
o Price and limited supply.
Customer Reviews
Write a Review
Ask a Question
09/01/2023
scott b.

United States
amazing
one of the best you can get from Davidoff
08/22/2023
Dylan T.

United States
Great selection, great service
This is the place for hard to find cigars. Always something in stock that I want.
Payment & Security
Your payment information is processed securely. We do not store credit card details nor have access to your credit card information.