Davidoff Limited Release Year of the Tiger 2022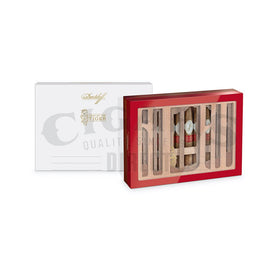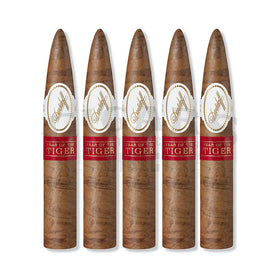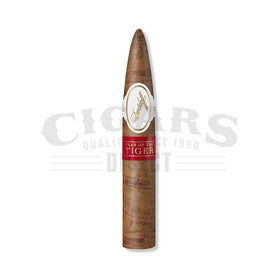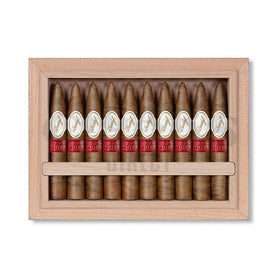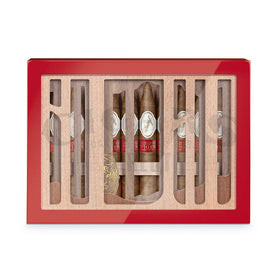 This Davidoff Limited Release Year of the Tiger 2022 cigar is made in the Dominican Republic. Outside, you'll find an Ecuadorian Connecticut wrapper. Inside, the binder is Dominican Republic - Hybrid 257 Seco, and the filler is Dominican. This is a Piramide shaped cigar with a length of 5.50 and a ring gauge of 52. 
2022 is the Year of the Tiger in the Chinese Zodiac. And for cigar fans, that's a really good thing, because this Davidoff Year of the Tiger release is absolutely ferocious. As seems to be something of a trend that is somehow gaining steam, the presentation of these cigars is absolutely stunning and highly creative.

The box has a glass window in the lid, which reveals a jungle of wood behind it. There stalks the golden tiger, protecting his stash of ten striking pyramides that taper to a tiger's claw point. Take a look at these Davidoff Year of the Tiger cigars and you'll have one immediate question: "How did they get those STRIPES on there?"

Yeah, they went all in. These are freaking awesome.

To answer the question, dark wetted tobacco veins were pressed into the wrapper leaf, then removed, leaving behind the stripe pattern you now see on the finished product. Ingenious and quite well executed. These cigar makers really do spoil us, (but then we see the prices of some luxury smokes and come back to earth). Complete with a red and gold band and a red envelope in the box, these cigars are a fine companion to any Chinese New Year celebration.

It goes without saying that these Davidoff Year of the Tiger cigars would make an outstanding gift for the tiger in your life. For reference, additional years were 2010, 1998, 1986, 1974, 1962, 1950, 1938, and so on.

The long-filler blend is a 5 leaf Dominican mixture with a hybrid 257 Seco binder and Davidoff's first Ecuadorian Connecticut wrapper to adorn a limited edition. The pyramides measure 5 ½ x 52 and should provide a very enjoyable hour-plus of smoking. The flavors of creamy cedar, roasted nuts, and honey all make for a great combination. We hope that a suitable alcohol pairing will be at hand. Davidoff said a rum cocktail, but if traditional Chinese libations are involved, so much the better.

For those who are all about the tiger life, accessories also available, including an ashtray, red leather cigar case, and an exorbitant 88-cigar masterpiece humidor that should only be purchased with other people's money.

It's going to be a good year for fierce tigers who like cigars.

- What are the flavors like? Creamy cedar, roasted nuts, honey.

- What's the strength level? Medium-full.

- Who is this cigar for? Davidoff Year of the Tiger cigars is for people born in the year of the tiger, first and foremost.

- Will I want to smoke it to the nub? When you wrestle with a beast, going halfway is not an option.

- What's a good pairing with it? Davidoff suggested a rum cocktail. Sipping straight is of course fine, but a honey bee can be made with a half tbsp of honey, a half tbsp of water, and a half oz. of lemon juice, and 2 oz. of rum. Shake with ice!

- What's the best time/place to smoke this cigar? Chinese New Year parties would be our first choice if we ever get invited to such a thing.

- Any flaws/downsides? Makes all other cigars seem really boring by comparison.



Payment & Security
Your payment information is processed securely. We do not store credit card details nor have access to your credit card information.