Davidoff Chefs Edition 2021 Churchill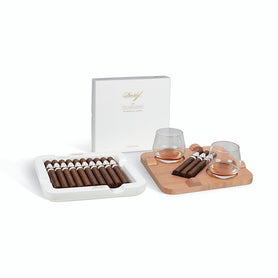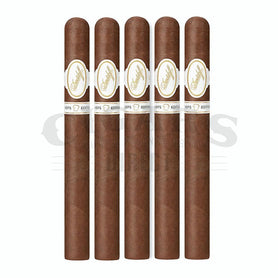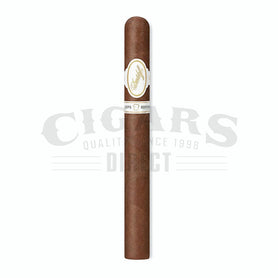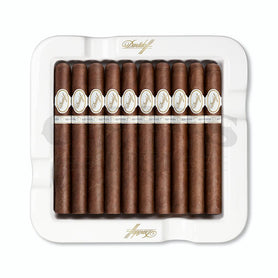 * GLASSES NOT INCLUDED*
This Davidoff Chefs Edition 2021 Churchill cigar is made in the Dominican Republic. Outside, you'll find an Ecuadorian Hybrid 238 wrapper. Inside, the binder is Mexican San Andres, and the filler is Dominican. This is a Churchill cigar with a length of 7.00 and a ring gauge of 48.
The Davidoff Chef's Edition 2021 Churchill cigar is strictly for the sophisticates. This one was made in concert with not one, not two, not three, but FOUR world-class chefs renowned for their extraordinary culinary creations. One would have been enough, but Davidoff is not a brand that stops at the bare minimum ever.

We can't honestly say we're familiar with these master artisans, but the group includes Juan Amador (of Vienna), Norbert Niederkofler (from ALPINN Food Space and Restaurant in South Tirol, Italy), Masa Takayama (who owns a restaurant in NYC) and Jorge Vallejo (chef at Quintonil in Mexico City). Each one you just know is the type of chef who has an eatery where you can walk in, sit down, order chef's choice and simply kick back to enjoy a guaranteed killer meal.

Davidoff Chef's Edition 2021 Churchill cigars are built around four ideas common to the cigar and cuisine worlds: 1) fine ingredients, 2) local sourcing, 3) innovative combinations that push boundaries and offer interesting flavors, and 4) attention to detail, which high-quality cigars always display.

The blend is well-chosen. The wrapper is a handsome hybrid 328 grown in Ecuador, the binder is a bold Mexican San Andrés negro, and there's a rich group of fillers from the Dominican Republic. These include Piloto Seco, San Vicente Ligero, Piloto Visus, and hybrid 192 Seco. The flavor complexity is all right there in the blend.

If you ever wanted a cigar to have after an exquisite meal at a fine restaurant, which allows you to really sink into the flavor notes and turn your (justified) pretentiousness up to 11, you've got it here with the Chef's Edition. This thing begs to be tasted to the fullest, paired with expensive aged whiskey, and enjoyed from beginning to end while listening to classical music. Meet the bite of pepper upfront. Float along on cedar and cream notes. And spin into the swirl of cinnamon and caramel that brings you to the finish.

C'est Magnifique!

Strangely, even though we know the Davidoff Chef's Edition 2021 Churchill cigar is bound to be spectacular, the packaging is what intrigues us the most. It's nuts. The base actually functions as a ceramic ashtray with four holders. The lid, naturally, is a serving tray that holds two cocktail glasses along with your cigars (or, if you're not drinking, it can carry your lighter and cutter). Innovation, luxury, and even value are all here.

Our compliments to the chefs.

Please browse our selection of Davidoff Chef's Edition 2021 Churchill cigars at your leisure.

- What are the flavors like? Pepper, cedar, cream, cinnamon, caramel.
- What's the strength level? Medium.
- Who is this cigar for? Davidoff Chef's Edition 2021 Churchill cigars are for people who want to experience the ecstasy of immaculate flavors
- Will I want to smoke it to the nub? You'll be fully under its spell.
- What's a good pairing with it? Davidoff recommends a finely aged whiskey to go with this connoisseur's delight. A Redbreast 12-Year-Old Cask Strength would work, but you can get an 18 or a 25-year whiskey to really match the promise of the Chef's Edition.
- What's the best time/place to smoke this cigar? After a fine meal at a swanky restaurant.
- Any flaws/downsides? Could it possibly live up to the hype? With these cigar-loving chefs behind it, we'd believe it. But we'll wait to see how it performs with the crowd.
Payment & Security
Your payment information is processed securely. We do not store credit card details nor have access to your credit card information.