Le Careme Limited Edition Pastelitos 2023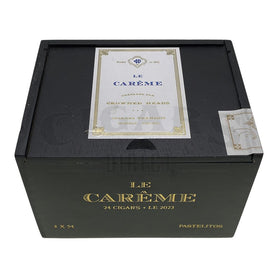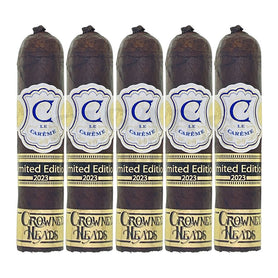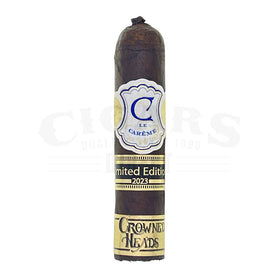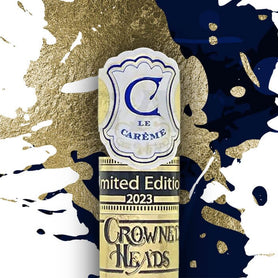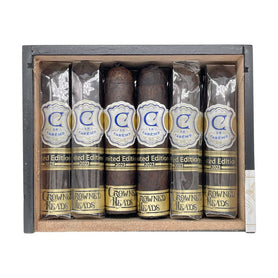 Beautiful. Elegant. More flavorful than a meal at a high-end French restaurant.

Crowned Heads Le Careme Limited Edition Pastelitos 2023 is here!

For a limited time only (1,250 boxes), these outstanding little wonders are ready to grace our humidors with four inches of smoking pleasure. The intent of this vitola is to provide something shorter that works for those breaks during cold winter months when spending many hours out in the cold smoking cigars is less enjoyable.

The blend is crafted along the same lines as the original La Careme line, which is such a treasure. It was first created by none other than cigar master blender Ernesto Perez-Carrillo, owner of TWO Cigar Aficionado Cigar of the Year awards for Pledge and Encore. For these Pastelitos, he brought in Nicaraguan long-fillers, an Ecuadorian Sumatra binder, and a sumptuous Connecticut Broadleaf wrapper. The goal was to emulate, in some ways, a fine chocolate soufflé in honor of Marie-Antoine Careme, the genius chef who invented them! Also, to complete the language lesson, pastelitos are a Cuban puff pastry that you can put just about anything into – sweet or savory.

Head out bundled up on a frosty day and light up one of these Crowned Heads Le Careme Limited Edition Pastelitos to see what kind of dessert flavors you can get. See if you can find the milky, creamy chocolate, as so many have. Smack your lips and see if dried fruit and spice are somewhere in the mix. Retrohale for a lush, cedary pepper bomb. These smokes are a treat for all of your senses, and they just have so much to offer. If you didn't catch the original blend when it first came out, hop on the Le Careme train and find out what happens when one of the best blenders in the world is trying to cook up a tasty tribute to a fancy dessert.

C'est magnifique.
This Crowned Heads Le Careme Limited Edition Pastelitos 2023 cigar is made in the Dominican Republic. Outside, you'll find a Connecticut Broadleaf wrapper. Inside, the binder is Ecuadorian Sumatra, and the filler is Nicaraguan. This is a Short Robusto cigar with a length of 4.00 and a ring gauge of 54.
Please browse our selection of Crowned Heads Le Careme Limited Edition Pastelitos 2023 at your leisure.

• What are the flavors like?
o Creamy chocolate, dried fruit, spices, cedar

• What's the strength level?
o Full

• Who is this cigar for?
o Crowned Heads Le Careme Limited Edition Pastelitos 2023 is for folks who love luscious flavor profiles.

• Will I want to smoke it to the nub?
o You won't want to leave a crumb of this Maduro behind.

• What's a good pairing with it?
o Perhaps a glass of Lapierre Raisins Gaulois? It's a highly affordable, highly enjoyable red wine.

• What's the best time/place to smoke this cigar?
o After a fine meal.

• Any flaws/downsides?
o Makes you hungry if you haven't eaten.
Payment & Security
Your payment information is processed securely. We do not store credit card details nor have access to your credit card information.