Cohiba Biometric Humidor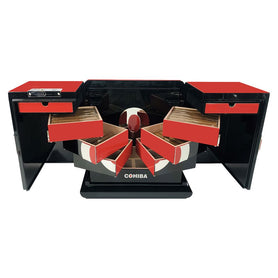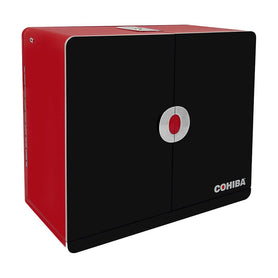 General Cigar Co. has advanced cigar security with the introduction of the Cohiba Biometric Humidor ($5,500). This humidor utilizes a fingerprint lock that is easily paired with the device. Inside are eight drawers that can only be opened with a fingerprint or the included traditional key. The exterior of the humidor features a sophisticated wood construction with the classic red and black color palette of the non-Cuban Cohiba brand. In addition to modern protection, discerning aficionados enjoy the stylish looks and expert craftsmanship of a true connoisseur. Now cigar collectors can rest assured their collections are safe without sacrificing a luxurious feel.

Each humidor comes with 106 cigars, including:
14 Cohiba XV Toro (6 x 52)
12 Cohiba Spectre (2018) (6 x 54)
14 Cohiba Spectre CS19 (6 x 49)
14 Cohiba Spectre 2021 (6 1/4 x 50)
12 Cohiba Edición Diamente Toro (6 x 54)
14 Cohiba Royale Toro (6 x 50)
14 Cohiba Silencio Toro (6 x 50)
12 Cohiba Red Dot Reserve Toro (6 x 54)
Cohiba Red Dot Reserve is a specially-crafted selection available exclusively in the Biometric Humidor. The precise blend remains undisclosed by General Cigar Co. According to Sean Williams, brand ambassador for Cohiba, the Biometric Humidor embodies the Cohiba brand and "serves as a testament to the dedication and quality of cigar craftsmanship."
The limited-edition item features 130 humidors, slated to launch in mid-November. 
Payment & Security
Your payment information is processed securely. We do not store credit card details nor have access to your credit card information.