Cigars for Hope Sampler Box of 6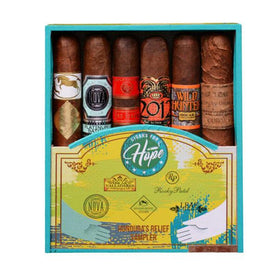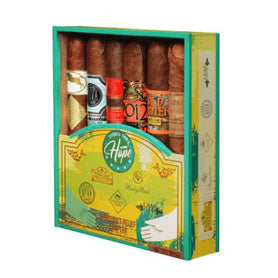 Only 2000 of these samplers are available and the cigars (Toro size) included are:
Wild Hunter Natural
2012 by Oscar Corojo
Leaf by Oscar Corojo
Nova Platinum Batch
Cavalier Geneve White Series
Rocky Patel Sun Grown
What is it for?
Tropical Storm Eta and Hurricane Iota that affected Honduras last year, had an impact of approximately $1.8 billion. There are more than 4 million people affected, with 2.5 million people in need. All of this adds to the effects provoked by the Covid-19 pandemic.

Many communities continue to suffer from the devastating effect of the storms and the COVID 19.
All this has caused a state of calamity in many parts of the country.
For this reason is that Oscar Valladares Tobacco along with Rocky Patel Premium Cigars, Leaf by Oscar, Nova Cigars, and Cavalier Geneve have taken the initiative to release a sampler box that they have named CIGARS FOR HOPE which contains 6 cigars packed in a beautiful box, to raise funds to help with medicine, clothing, supplies, food to the affected communities, shelters, and hospitals.

All proceeds from the sales of the CIGARS FOR HOPE sampler will go to support this cause.
Payment & Security
Your payment information is processed securely. We do not store credit card details nor have access to your credit card information.