CAO World Sampler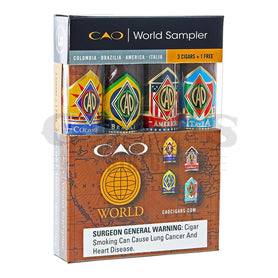 The CAO World Sampler includes:
1- CAO America
1- CAO Brazilia
1- CAO Colombia
1- CAO Italia
The CAO cigar company's reputation has been built in part by offering interesting and uncommon tobaccos from around the world. In an industry that is obsessed with certain locations like Cuba and Nicaragua, there's tons of room to offer something different. Not every cigar has to follow the same traditional formula, no matter how excellent that formula is.

The CAO World Sampler proves this point.

Here you'll get four, 5 x 56 robustos that give you a potent medium-full strength way to experience a number of delicious tobaccos from a variety of locations around the world that you might not otherwise encounter with leading brands. CAO is taking you on a tour of fertile soils and the tasty leaves they produce. The assortment has one each of the following cigars.

America

The CAO America has stripes. The stars you'll have to supply yourself.

The CAO America features a fun barber pole-style wrapper that combines Connecticut broadleaf and Connecticut shade. For the filler blend, you're getting a total melting pot of tobaccos that include Dominican, Italian, Nicaraguan, and U.S. leaf. There's also a Brazilian binder thrown in the mix. The result is a cigar that is just like the Fourth of July, with flavors of grilled beef, chocolate, and sweet cedar.

If there's one thing America does well, it combines things and makes them into something even better.

Brazilia

Next up in the CAO World Sampler is Brazilia, the superstar of the assortment. This one's got a bomb-ass Arapiraca Brazilian Maduro wrapper. It's dark and dank and combines with the Nicaraguan long-fillers inside to produce a hearty, full-bodied, complex smoke. The flavors are earthy and nutty, but also have a softer side. There are floral notes that make this one something special. As one of the early cigars to use Brazilian tobacco, this is a great place to experience it for the first time.

Colombia

A short 2,008 miles from Brazil is Colombia, where they grow Ica Mazinga tobacco. Up there in the mountainous areas, the leaf thrives in the rich mineral soil, and it's used to make up most of the CAO Colombia cigar in the CAO World Sampler. This leaf is complemented by a Brazilian long-filler, a Cameroon binder, and a Honduran Jamastran wrapper. Naturally, the flavor is off the charts, full of wood, black cherry, nougat, and cashew. This tasty combo earned the CAO Colombia a 92 rating and helped bring attention to an international blending style that should not be overlooked.

Italia

Last up, the CAO World Sampler has something for the Italianos in the crowd. Yes, there's tobacco in Italy (they grow everything there), and you can test it out in the CAO Italia cigar!

The leaf of the CAO Italia is grown in Benevento, not far from Naples on the west coast. The rest of the blend comes from a Nicaraguan and Peruvian long-filler, a Honduran binder, and a Honduran Habano Maduro wrapper. It's earthy, spicy, and even has a little tang of apple in the mix. Anyone with a lick of sense knows that Italy has got food and similar enjoyments mastered, so this is a very fun way to enjoy yet another kind of Italian produce.

Altogether, the CAO World Sampler is a fantastic trip from one less-visited cigar location to the next, providing you with a special opportunity to get in on some high-quality smoke. Don't miss it!

Customer Reviews
Write a Review
Ask a Question
12/31/2020
Darryl H.

United States
Perfect Christmas Gift
Gave this as a Christmas gift to my best friend. He loves it!!
Payment & Security
Your payment information is processed securely. We do not store credit card details nor have access to your credit card information.