CAO Arcana Firewalker LE Toro Extra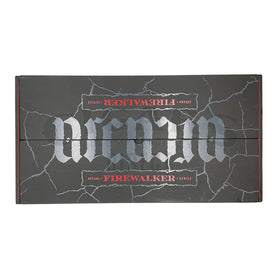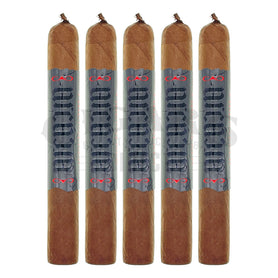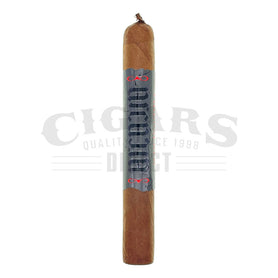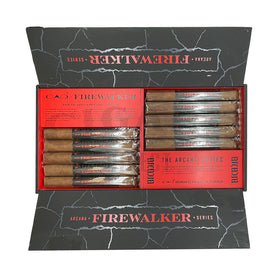 CAO's Arcana series is focused on employing unusual techniques to bring on a "completely unique smoking experience." So put this Arcana Firewalker limited edition cigar on your list of smokes to reach for when you want something a little different. Variety is still the spice of life, and so we're almost always ready for some experimentation from cigarmakers.

This isn't experimentation, though. This is a throwback cigar.

Firewalker cigars feature tobacco prepared using the chincagre method. This is a way to ferment tobacco that involves burying it underground in Nicaragua's rich volcanic soil. It's not that much of a departure from the more standard process, where tobacco leaves are stacked up in pilones for fermentation. Instead of having the pilones in an open storage facility, they're soaking up that terroir in a way that no other leaves do.

After that, they're brought back into the warehouse with the rest of the tobacco for a more carefully controlled fermentation period of around 9 months.

This limited-edition Firewalker cigar is a hefty 6.5 x 56 toro extra. It packs in the specially fermented long-fillers, wraps them in a Nicaraguan binder, and then finishes off the stogie with an Ecuadorian habano rosado wrapper.

So what does it all come to, once you get it lit? Can you taste the ancient magic coming through? Well, it's tasty. The blend is, unsurprisingly, earthy and chocolatey. Cedar is also at the core, complemented by black pepper that can really spike into an intense kick of heat. The cigar develops, often showing very raw notes of mineral and herbs. It's a very natural blend and one that fans of a more unrefined profile will probably enjoy.

This one is available for a limited time. So, before the coals go out: come, fire walk with us.
This CAO Arcana Firewalker LE Toro Gordo cigar is made in Nicaragua. Outside, you'll find an Ecuadorian Havana wrapper. Inside, the binder is Nicaraguan, and the filler is Nicaraguan. This is a Toro Gordo-shaped cigar with a length of 6.50 and a ring gauge of 56.
Please browse our selection of CAO Arcana Firewalker cigars at your leisure.

• What are the flavors like?
o Cedar, earth, milk chocolate, black pepper

• What's the strength level?
o Medium-full

• Who is this cigar for?
o CAO Arcana Firewalker limited edition toro cigars are for people who want a blend that is untamed Nicaragua.

• Will I want to smoke it to the nub?
o This one is more challenging. It needs to find the right smokers.

• What's a good pairing with it?
o Hot black coffee made on a camp cooker

• What's the best time/place to smoke this cigar?
o Take this one to the wilderness.

• Any flaws/downsides?
o Construction issues have been noted and hopefully corrected by the company for this limited edition toro. The good news is: that this could be the best Firewalker on the market!
Payment & Security
Your payment information is processed securely. We do not store credit card details nor have access to your credit card information.