Black Works Studio Poison Darts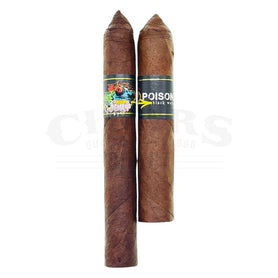 NOT FOR SALE | PROMO ITEM ONLY!!!
Spend $99.99 or more on Black Works Studio or Black Label Trading Company cigars and get this Poison Dart Pair for FREE. While supplies last.
Creep through the undergrowth in the Nicaraguan jungle. Ready your blowgun. But don't fire it. Light it up! And draw in the devilish, spicy smoke.

You've just fallen prey to the hunters of Black Works Studio. And you thought you had a weapon in your hand!

Black Works Studio Poison Darts cigars are part of a super limited batch of handcrafted stogies. Only 500 boxes are offered worldwide. We include them as part of a "thank you" promo package for those who are buying up the supply of Black Works cigars.

Our apologies to those who are trying to get them directly! These are strictly special offer items.

The blend is a wicked one, and we expect nothing less from James Brown and Black Label. He's not one to cry with the saints. He's more of a "laugh with the sinners" kind of guy. So, to get a little pitchfork into your tongue, he went with a Brazilian mata fina wrapper, an Ecuadorian Habano binder, and some savory Nicaraguan long-filler tobacco.

In his own words, he describes some serious smoke: "Pepper and chili spice are layered with a mix of citrus, cedar, and herbal tea notes. The spicy mix of filler tobacco pairs perfectly with the rich, complex profile of the Brazilian Matafina wrapper."

Please don't come to a cigar with the name Poison Darts expecting anything smooth and subtle. This is a quick killer. You'll need to be ready for smoke that's on its worst behavior.

The pair includes a corona gorda (5.50 x 46) and a short Robusto (4.5 x 50). When you need to be struck down by the jungle's savage leaf, this is the blend to turn to. Snag some Black Works stock if you want to jam this one into your neck on one of those days when you absolutely need a nasty cigar.

• What are the flavors like?
o Spice, citrus, cedar, herbal tea

• What's the strength level?
o Full

• Who is this cigar for?
o People who want a walk on the wild side.

• Will I want to smoke it to the nub?
o Can you?

• What's a good pairing with it?
o Mezcal? Nuestra Soledad Santa Maria Zoquitlan over ice with a lime.

• What's the best time/place to smoke this cigar?
o Bad days you want to make even worse, in a good way.

• Any flaws/downsides?
o Some folks will not love the wild flavors.
Payment & Security
Your payment information is processed securely. We do not store credit card details nor have access to your credit card information.