Black Works Studio Green Hornet Robusto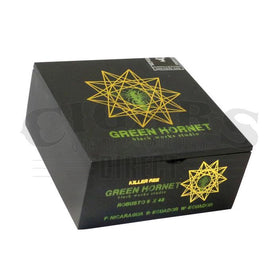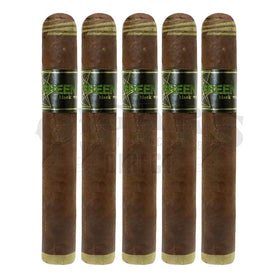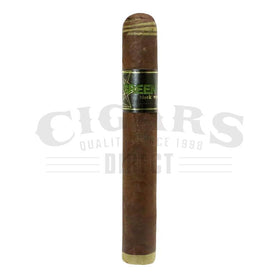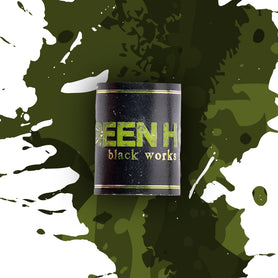 This Black Works Studio Green Hornet Robusto is made in Nicaragua. Outside, you'll find a Connecticut Maduro wrapper. Inside, the binder is Nicaraguan, and the filler is Nicaraguan. The Black Works Studio Green Hornet Robusto is a Full bodied Corona shaped cigar with a length of 5.00 and a ring gauge of 48
Black Works Studio is all about original blends, and the Green Hornet adds a fun twist on the Killer Bee blend the company already has out. The Green Hornet was an event-only cigar, but gained some popularity and Black Works turned it into a regular production blend.

Once people get a taste of something new, you can't take it away, right?

The core blend was sensationally strong, living up to the name with a potent nicotine sting. Nicaraguan tobacco provided a sturdy long-filler foundation, while the Ecuadorian maduro wrapper brought in mature earthy flavor. It had a hearty and spicy flavor profile and captured some fans with its undeniable personality.

After that, other versions were spawned. The hit cigar led to a Killer Bee Connecticut that even landed on Halfwheel's Top 25 list. This Green Hornet is another vicious insect in a fearsome bug family.

This time around, the blend from the Killer Bee is still there, but candela leaf is added both inside and out. Candela encloses the foot of the cigar and there are fancy accent strips on the cap as well for a bit of taste right at your lips as you smoke. Fabrica Oveja Negra always brings it and gives us something to smile about when we get a box open. The Black Works Studio Green Hornet cigar is definitely a conversation piece while still being a fully flavorful stogie.

Because the Green Hornet cigar blend is rolled in a larger format than the original Killer Bee, the company had to dial up the strength a bit. The result is a smoke that the company says is "big, bold, rich and spicy." This could have been said about the original, of course, and it's the candela leaf in the long filler that adds something totally new. This is because candela isn't cured in a drying barn on a normal timetable. Instead, it's rapidly heat cured, resulting in the retention of the green color the tobacco had in the field, as well as the natural, vegetal flavors you get in leaf tobacco.

Spark up the Black Works Studio Green Hornet blend and get stung with green tea, cocoa nibs, and grilled meat. It's quite an interesting combination, and really displays the Black Works approach to blending, which is to go beyond traditional limits to create cigars that are engaging to smoke.

And yes, there is a comic book superhero by this name. It's one of the few that isn't under the DC or Marvel umbrella.

Please browse our selection of Black Works Studio Green Hornet cigars at your leisure.

- What are the flavors like? Green tea, cocoa nibs, grilled meat.

- What's the strength level? Full.

- Who is this cigar for? Black Works Studio Green Hornet cigars are for smokers who want a fascinating flavor profile with candela leaf in the mix.

- Will I want to smoke it to the nub? If you're in the mood for something different, you'll get it here.

- What's a good pairing with it? This one is really tough. Try it with a cream ale and let us know how the combo works out.

- What's the best time/place to smoke this cigar? When you're not afraid of the stinging insects in your yard

- Any flaws/downsides? Candela will take some people by surprise. It's a different kind of leaf than what many are used to.
Customer Reviews
Write a Review
Ask a Question
07/21/2021
Thomas C.

United States
Great cigar!
Very flavorful & excellent construction. Black Works Studio makes some excellent boutique smokes.
Payment & Security
Your payment information is processed securely. We do not store credit card details nor have access to your credit card information.