Black Works Studio Intergalactic Limited Edition Robusto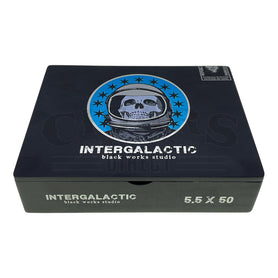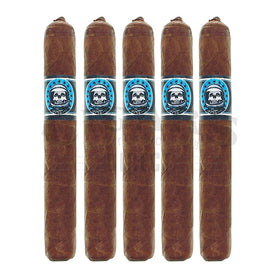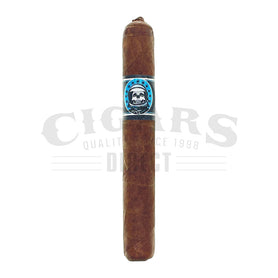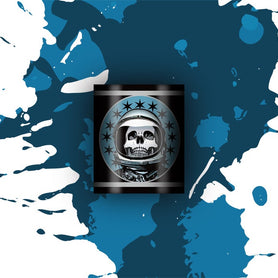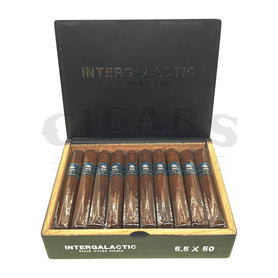 This Black Works Studio Intergalactic Limited Edition Robusto cigar is made in Nicaragua. Outside, you'll find a dark Indonesian Sumatra wrapper. Inside, the binder is Ecuadorian Habano, and the filler is Nicaraguan. The Black Works Studio Intergalactic Limited Edition Robusto is a Medium-Full bodied Robusto shaped cigar with a length of 5.50 and a ring gauge of 50
Black Works Studio Intergalactic cigars are a unique creation from a blender who simply doesn't have time to do things the traditional way. Company founder James Brown is an adventurous sort of guy. In fact, before he launched Black Label Trading Company and Black Works Studio, he ran 4×4 tours through remote places in Central America.

It makes an office job sound ridiculous, doesn't it? A job where you can bounce through the foliage with a stogie in your teeth and never feel the harsh slap of a fluorescent light? That is until you realize just how many bugs you're going to have to slap off your skin on your jaunt through the jungle.

But we digress…

This blend is built around Nicaraguan tobacco, like many other Black Works Studio cigars. Around those long-filler bunches, Brown selected a classic Ecuadorian Habano binder, and then a provocative Indonesian Sumatra wrapper. Working with this combination, Black Works Studio Intergalactic cigars are then made at Fabrica Oveja Negra in Estelí, Nicaragua.

We don't know where the space theme came from. We love the badass skeleton in a spacesuit that adorns the boxes and bands, though. You can't help but start thinking of a story to go with it. We'll save that for another day and leave you with Brown's description of the smoking experience for his Black Works Studio Intergalactic:

"The blend starts with bold spice followed by herbal and cedar notes. The finish is a balance of different layers. The spice and earthy notes of the Nicaragua filler tobaccos are gently brought together with the creamy, subtle sweetness of the dark Sumatra wrapper."

A nice spicy punch, a foundation of Nicaraguan flavor, and a finish that keeps you coming back for more. Sounds like he put together a pretty decent smoke. If it intrigues you, grab a few of these medium-full strength stogies. But keep in mind that Black Works Studio Intergalactic cigars are produced in very limited runs. Supplies are limited. This is the boutique within the boutique of Black Label Trading. If this exclusive small-batch industry trend keeps up, people just will be releasing "production runs" of single cigars that we all just pass around and get one draw of. Maybe exclusive companies will sell tickets to a cigar experience instead of cigars? Is that the future?

Anyway, please browse our selection of Black Works Studio Intergalactic cigars at your leisure.

- What are the flavors like? Bold spice, cedar, creamy sweetness.
- What's the strength level? Medium-full.
- Who is this cigar for? Black Works Studio Intergalactic cigars are for people who want a Nica blend with a carefully-chosen Sumatra leaf on top.
- Will I want to smoke it to the nub? It's not a must-smoke, but should be interesting enough for people who like the flair Sumatra leaf adds to a cigar.
- What's a good pairing with it? This seems like a nice beer smoke. A company called Mighty Squirrel makes a Cloud Candy IPA with lots of fruit notes to add to the party the Intergalactic provides.
- What's the best time/place to smoke this cigar? On a starry night.
- Any flaws/downsides? Might be the type of cigar that benefits from some aging time in the humidor.
Payment & Security
Your payment information is processed securely. We do not store credit card details nor have access to your credit card information.