Aura E.P. Carrillo Shengxiao Limited Edition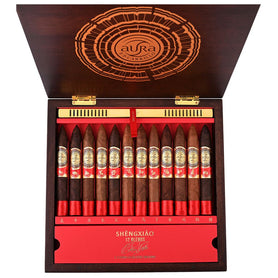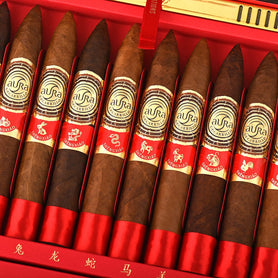 2,500 boxes were produced and 1,500 boxes are being released to retailers in Asia. At the same time, ONLY 450 are being made available to U.S. retailers, and the remaining 500 are being offered to retailers in Europe and South Africa.
Aura E.P. Carrillo Shengxiao Limited Edition cigars are an incredibly exclusive set of blends from a blender that, today, is a cut above all the rest. Ernesto Perez-Carrillo is fresh off not one but TWO Cigar Aficionado Cigar of the Year wins. In 2020, it was the astounding 98-point Pledge Prequel, a delectable array of spices. In 2018, it was his nuanced and captivating Nicaraguan puro, the Encore Majestic. As a result, we're all hanging on every puff that comes through an E.P. Carillo stogie.

We have 12 unique blends built for each animal sign of the Chinese Zodiac, the Shengxiao. Twelve fresh premium rolls from Don Ernesto! Some very lucky smokers will get a hold of these, and we're already jealous.

In each limited edition box, you'll find an array of aged tobaccos crafted in a way that the master himself, E.P. Carrillo, found suitable for each personality type. There's the patient, dependable Ox (Niú), the brave Tiger (Hǔ), and the agile Snake (Shé). Each could serve as a gift for the zodiac signs in your life. Or, they could be enjoyable smokes waiting for the right moment.

The box contains cards describing each blend in more detail. We see Maduro, Oscuros, and more all waiting for the spark of a lighter's inspiration.

Aura E.P. Carrillo Shengxiao Limited Edition cigars are "driven by energy." They cut a distinctive shape; each rolled into a 6 1/8 x 52 torpedo. The tapered head allows smokers to decide their opening size to suit their preferred draw. Each also features a band with its golden zodiac sign against a classic red background.

The stogies arrive in a gorgeous mahogany box with a humidifier to ensure that these Shengxiao cigars stay in perfect condition until it's time to enjoy them.

Supplies are minimal. Of those that were made, only 450 are available in North America, which means we were only able to make just a few acquisitions for our customers. Pick up this luxury collection if you want unique blends from a man at the very top of the cigar game. You may smoke something that no one else will ever see on the mainstream market!

Now THAT's a heavenly tobacco arrangement with all the stars in alignment.
Payment & Security
Your payment information is processed securely. We do not store credit card details nor have access to your credit card information.