Arturo Fuente Hemingway Humidor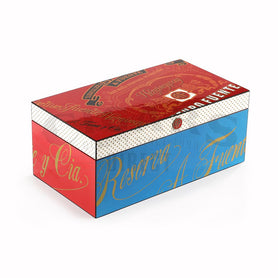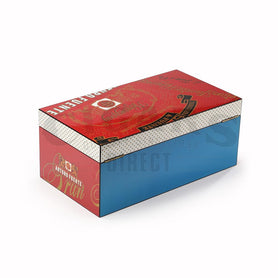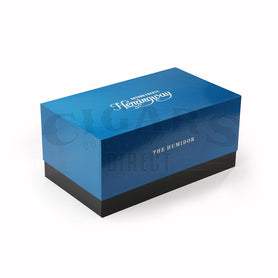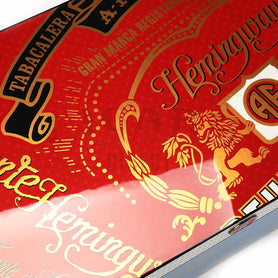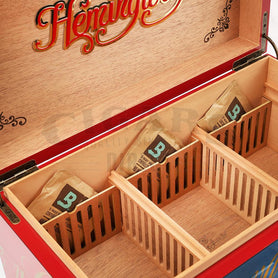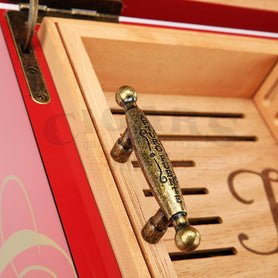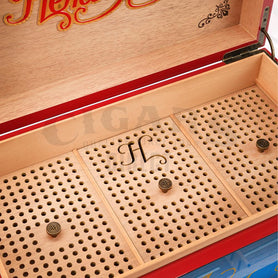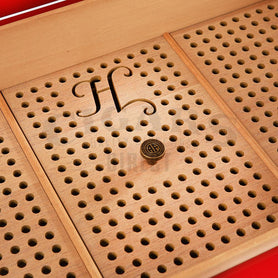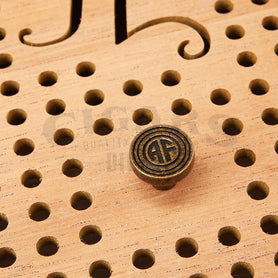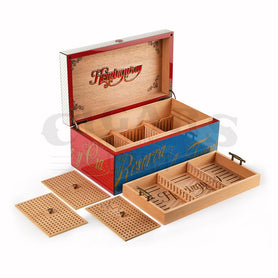 If you're going on an adventure across the seas, you're going to need a supply of cigars. The Arturo Fuente Hemingway Humidor holds 100 to 120 in grand style, in the form of one of the nicest cigar storage pieces money can buy.

The striking look is thanks to designer Manny Iriarte, longtime Fuente collaborator, and creator of the OpusX Society collection of cigar and other accessories. With a commitment to perfection and an eye for detail, Iriarte has created lighters, watches, glassware, and much more to celebrate Fuente in grand style. The Arturo Fuente Hemingway Humidor is yet another example of what is possible when a capable artisan is given free rein to make something beautiful and elegant, without regard to cost.

What's red, blue, and gold all over? The nicest humidor many of us have ever laid eyes on!

Lift the lid and be greeted with the faint smell of Spanish cedar. The top tray is divided into three compartments for cigar organization, and it raises out to give you access to the other layers. Beneath that, you'll notice that the bottom compartments are covered by removable lids with holes placed for airflow. Each of these can be taken out so you can get to your final level of stock. Pockets for humidification packs are also found there to ensure that your cigars all get appropriate moisture.

We know that fans of the Hemingway blend (or the writer himself) will probably be the ones most interested in the Arturo Fuente Hemingway Humidor. They'll remember that cigar as the unusual 94-point smoke that Cigar Aficionado absolutely loved in the perfecto size. Like the Cigar of the Year-winning Fuente Don Carlos blend, this one also features a Cameroon wrapper that, when properly married with the right blend of aged Dominican tobacco, makes for one of the most interesting stogies on the market.

It invokes the memory of a man who, ironically, is remembered as somewhat complicated, despite the simple, pared-down writing style that made him a literary legend. We recall the cigar-smoking, drink-pounding adventurer who showed so many a larger way to live life.

Here, in a humidor that bears his name, we can be assured that anytime we're smoking cigars, we'll get a glint in our eyes and look off to the distance. There's always a chance that inspiration will take us somewhere new and we'll find a part of ourselves we never knew existed. Before you head out, don't forget to grab a few smokes from your Arturo Fuente Hemingway Humidor.

Life is a calling.

Specifications:
Length: 9.44 in (24cm)
Width: 10.5 in (26.7cm)
Height: 8 in (20.32cm)
Weight: 20.5 lbs (9.3kg)
Material: Spanish Cedar

Customer Reviews
Write a Review
Ask a Question
So many complements!
I needed a second humidor due to my growing number of cigars and my main humidor being full. I have the FF Forbidden Charity humidor and thought any other would be inferior. I was completely wrong! I had Juan walk me through the Hemingway Humidor and as importantly to me, how it looks. I say this a bit sadly, but I get more complements on this one with its "Art Deco" look than the one that was my pride and joy! So pleased with this addition and so happy that I kept an open mind throughout the selection process.
Payment & Security
Your payment information is processed securely. We do not store credit card details nor have access to your credit card information.