The OpusX Society Coffee Mug Set El Rojo y Azul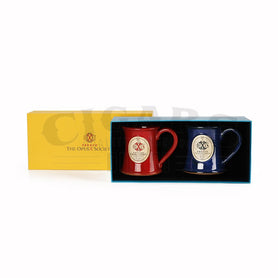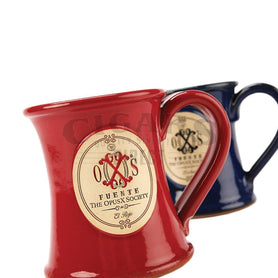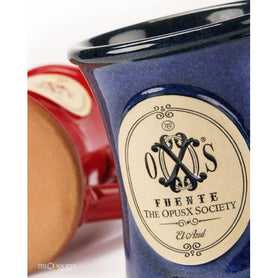 Coffee and cigars are one of the very best pairings you can experience, and this Arturo Fuente The OpusX Society Coffee Mug Set lets you enjoy it in fine style. With one in red and one in blue, you can enjoy your coffee and cigar pairing with your favorite person pairing, too.

These OpusX Society mugs were handcrafted by Sunset Hill Stoneware in Wisconsin the old-fashioned way. Clay is shaped on a potter's wheel by expert artisans. Details are added painstakingly, and then the mugs are glazed, baked, and finalized to become the works of art you see in the images.

The mugs are part of the OpusX Society, a collection of fine cigar and lifestyle accessories inspired by the house of Fuente. Since 2005, when OpusX was first named Cigar of the Year by Cigar Aficionado, the brand become one of the most famous in the industry. The cult hit OpusX blend started flying off the shelves and honestly hasn't stopped since. Whether core blends or special editions (and there are quite a few of those), fans just can't get enough of that rich, creamy Dominican flavor profile. To celebrate the brand, OpusX Society items were created.

They're conceived of in collaboration with Cuban designer Manny Iriarte, a longtime Fuente partner whose taste and eye for detail pretty much never disappoint. He's made watches, ashtrays, lighters, and other fine luxury pieces for fans to further enjoy the legendary cigars known as "OpusX." Now, we've got stylish mugs to help complete the full Fuente experience when you get your hands on some delectable cigars.

Quantities are quite limited, so please don't hesitate if you are interested and you see these in stock.
Specifications:

Set of two (2)
Colors: Red & Blue
Holds: 14oz
Height: 4.5in
Dishwasher, Microwave, and Oven Safe
Safety: 100% Led-Free | FDA & California Proposition 65 Compliant
Made in the USA
Payment & Security
Your payment information is processed securely. We do not store credit card details nor have access to your credit card information.