The OpusX Society Carbon Fiber Cigar Case Blue and Black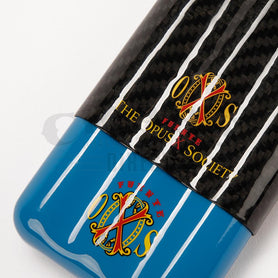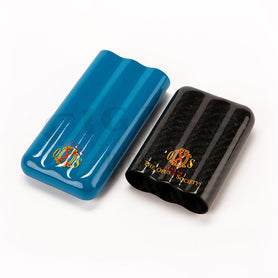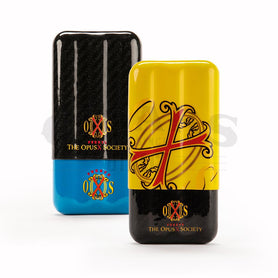 About two decades ago, the Fuente family released one of the world's first cigars to ever feature a Dominican wrapper leaf. The blend had taken considerable work to get right, but all the hard work paid off. Cigar Aficionado called OpusX the #1 Cigar of the Year in 2005, and the world has never been the same since. The rich and creamy profile that only gets better with time has turned OpusX into a cult hit that zips off the shelf as soon as it comes into pretty much any cigar shop. And don't get us started on the special editions and their eye-popping price tags.
The point is, only Fuente is Fuente.
This Arturo Fuente The OpusX Society Carbon Fiber Cigar Case lets fans bring cigars to events, dinners out, vacations, and other occasions in fine style. The carbon fiber design means that this case is strong but super lightweight, tipping the scale at only 41 grams.
The Telescoping Top allows 3 cigars up to 7inches in length and 60 ring gauge 
to fit perfectly.
The styling and artwork on these cases are quite striking and pleasing to the eye. The famed OpusX logo dominates the most visible portion (one half of the sliding design fits into the other like a sleeve). The other features the OpusX Society, which has become a collection unto itself over the years. Cuban designer Manny Iriarte has collaborated with the Fuentes on many projects and accessories. He started with watches and later used his outstanding taste to help the brand find the right way to make its mark on a variety of objects from lighters, to ashtrays, and beyond.
A good travel case is a helpful item to have around for any serious cigar lover. Tossing a really nice premium cigar into your pocket only to pull it out damaged later is a bummer. This Arturo Fuente The OpusX Society Carbon Fiber Cigar Case ensures that your cigars arrive at smoke time in perfect condition, ready to deliver all the enjoyment they were created to give.
Payment & Security
Your payment information is processed securely. We do not store credit card details nor have access to your credit card information.