The OpusX Society 1776 Lighter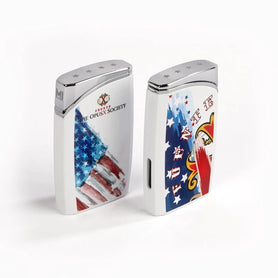 What's red, white, and blue and as pretty as Old Glory flying in the summer breeze? The OpusX Society 1776 Lighter!

This gorgeous, luxury accessory is part of a super high-end collection from one of the cigar industry's very best designers: Manny Iriarte. For years, Mr. Iriarte has brought his impeccable aesthetic sense to a wide variety of projects for the Fuente family, and the man simply doesn't miss. So, when one of the best cigar companies on Earth needs a designer, he's the one they trust and turn to.

The OpusX Society 1776 Lighter is a torch lighter with a smooth ignition mechanism right at the top. Simply slide the silvery metal cap aside and your flames will leap to life, like the jet on the back of an F-16 Fighting Falcon roaring into the sky. (Please excuse any love of military in this description, we have trouble keeping it under wraps when something like this gorgeous firemaker is in hand.)

In addition to being eye candy and a status symbol, the OpusX Society 1776 Lighter is quite functional. The flame adjuster found on the bottom of the lighter is easy to turn with a flathead screwdriver, and the fuel intake nozzle makes refilling simple. Keep this one in good condition and enjoy it for generations like a Patek Phillipe.

Fuente OpusX and America. The best of the best, right?

Let freedom ring.
Payment & Security
Your payment information is processed securely. We do not store credit card details nor have access to your credit card information.