Arturo Fuente Opus X The Undefeated Toro Gordo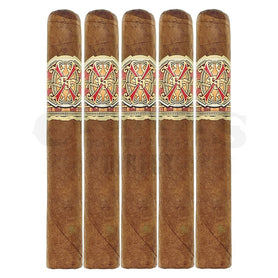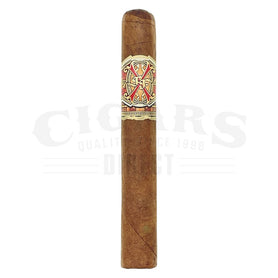 RELEASED FEBRUARY 2023
Arturo Fuente Opus X The Undefeated cigars are a special part of a storied line. Almost any cigar smoker (and many others) has heard of OpusX, so any new blends that are part of the OpusX family are sure to turn heads.

This one is no different.

The OpusX flavors are all there. It's a complex blend that almost always shows a number of faces. But in recent years, it's been better than ever before. The Fuentes are remarkable in not just consistently putting out something fantastic, but even managing to find new peaks. Most recently, an OpusX was the #2 cigar of 2021, according to Cigar Aficionado. The rating of 97 points was bonkers, but if you got a chance to taste that Dominican sun-grown rosado tobacco, you knew why it had to be done. The thing isn't a hype job – it's an undeniably excellent and intriguing cigar. Plenty of spice and sweetness is there, and this great core is electrified by flashes of rum, oak, and dark fruit. Each puff leads you on a flight of fancy and serves as a reminder of why something so stinky can also be so sublime.

It really is a marvel.

OpusX The Undefeated cigars take this same blend and put it in service of a good cause. This particular vitola is part of the Cigar Rights of America sampler, proceeds of which go to support the CRA organization. The CRA lobbies the U.S. government to ensure that our ability to enjoy cigars is protected and not unduly infringed. No matter what your favorite vice is, the battle is pretty much never-ending to keep it undisturbed. Cigars are the same way, and it's always good to offer support to those who advocate for our right to kick back and toast up stogies whenever we damn well please.

Welcome to the family, OpusX The Undefeated! You've got a legion of adoring Fuente fans just waiting to bring you into the party.
This Arturo Fuente Opus X The Undefeated Toro Gordo cigar is made in the Dominican Republic. Outside, you'll find a Dominican Sun Grown Rosado wrapper. Inside, the binder is Dominican Sun Grown Rosado, and the filler is Dominican Sun Grown Rosado. The Arturo Fuente Opus X The Undefeated Toro Gordo is a Full-Bodied Box Press Toro Gordo shaped cigar with a length of 6.00 and a ring gauge of 56.
Payment & Security
Your payment information is processed securely. We do not store credit card details nor have access to your credit card information.