Arturo Fuente Gran Reserva Cubanitos Maduro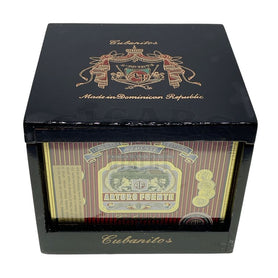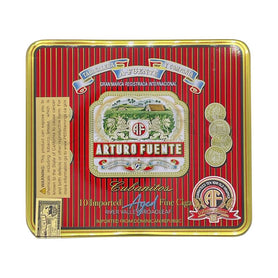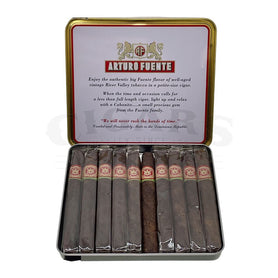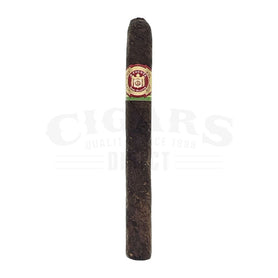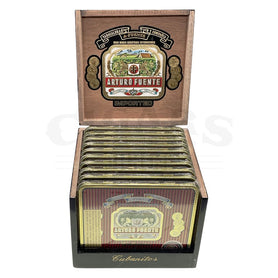 "There's no time for a Churchill! Just get me one of those Fuente Cubanitos!"

These are perfect smokes for shorter breaks and small sessions when there just isn't time to kick back and puff away until the cows come home. At 4.5 x 32, they're a touch bigger than the average cigarillo. They give you a bit more tobacco than that. But they're built to serve as an efficient smokable that would be great in a half-hour break.

Arturo Fuente Gran Reserva Cubanitos Maduro cigars build upon what the company calls its "flagship" blend. Inside is a rich Dominican tobacco core that offers a flavorful, leathery profile. Around that, you'll find an earthy Connecticut broadleaf maduro wrapper. This is a bit of a newer move from the company, which traditionally wrapped the Gran Reserva in Cameroon or Ecuadorian rosado leaf.

But this ain't your average Gran Reserva. If you only have a little time, Fuente will make it worth your while. The Connecticut broadleaf maduro wrapper is not only rustic and earthy, but this is TEN YEAR-aged tobacco. Fuente always reminds us that they never "rush the hands of time," and a blend like this backs up their commitment to patience.

Fuente Dominican leaf + Connecticut broadleaf maduro = an all-natural flavor that's out of this world. It's earthy and nutty, with flashes of citrus and dried fruit that add new dimensions to a much-beloved blend. You're getting a highly-rated smoke in a compact format.

You don't need to set aside any time. Smoke 'em if you got 'em!
This Arturo Fuente Gran Reserva Cubanitos Maduro cigar is made in Dominican Republic. Outside, you'll find a Maduro wrapper. Inside, the binder is Dominican, and the filler is Dominican. This is a Cigarillo cigar with a length of 4.50 and a ring gauge of 32.
Please browse our selection of Arturo Fuente Gran Reserva Cubanitos Maduro cigars at your leisure.

• What are the flavors like?
o Earth, nuts, citrus, dried fruit

• What's the strength level?
o Medium

• Who is this cigar for?
o Arturo Fuente Gran Reserva Cubanitos Maduro cigars are for fans of great tobacco who need brief smokes.

• Will I want to smoke it to the nub?
o Yep.

• What's a good pairing with it?
o A simple coffee.

• What's the best time/place to smoke this cigar?
o Lunch breaks when your next job isn't that pressing and you can afford to take a moment and chill.

• Any flaws/downsides?
o These are pretty rustic-looking. Anyone who demands super pretty cigars might be surprised to see that broadleaf looking like it grew from actual dirt.
Payment & Security
Your payment information is processed securely. We do not store credit card details nor have access to your credit card information.