FFOX Heaven and Earth El Escorpion Maduro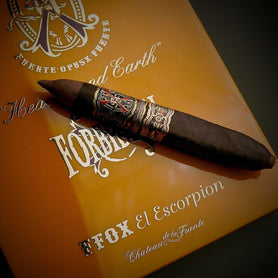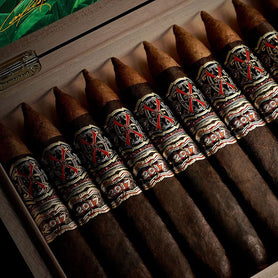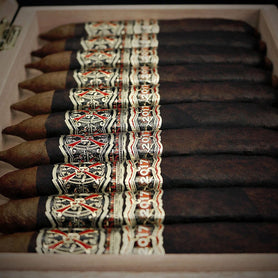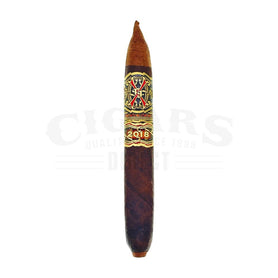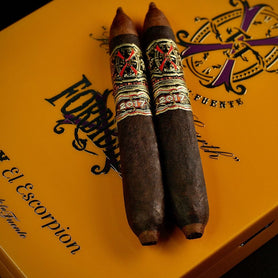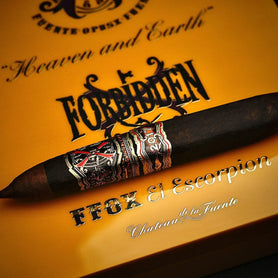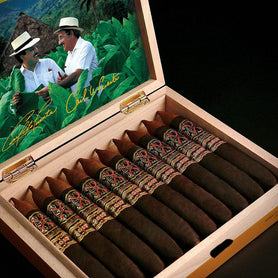 Legends never die, and OpusX is as legendary as they come.

Made with incredibly rare aged tobaccos from Chateau de la Fuente vaults, Fuente Fuente OpusX (FFOX) Heaven and Earth El Escorpion maduro cigars are crafted to send you into total bliss. They're the kind of cigar that you draw on and close your eyes… that you retrohale to explore further dimensions of… and that you don't worry about the cost of once you've got them home.

They're a special occasion cigar, to say the least.

These are among the most exclusive blends you can get anywhere. Heaven and Earth El Escorpion cigars feature the best tobacco from one of the best cigar makers. There's little we need to add to that to explain what you get in each limited-edition box.

Since OpusX won Cigar Aficionado's second ever Cigar of the Year award in 2005, these blends have been in high demand. As people clamored to get a hold of these elusive sticks, the mystique grew. And now here we are, smoking a Dominican puro that burns in very rarified air.

Don Arturo, the patriarch of the Fuente family, was born in November. This made him a Scorpio, and his descendants still use this symbol as a way to mark their roots and history. They're lethally good cigar makers and keep their claws firmly in the soil, right alongside the roots of each tobacco plant waving in the breeze in the growing fields of Bonao.

To give back to this community, a portion of the proceeds from purchases of Heaven and Earth El Escorpion maduro cigars goes to the Cigar Family Charitable Foundation, which serves the underprivileged children of this area.

Boxes of ten are actually limited-edition travel humidors made by Prometheus, a frequent partner of the Fuente family. Shining in orange with golden detail work, these would serve as fine adornments to any desk or cigar lounge table. Lift the lid and take in the sweet aroma that is pure Heaven, straight from the Earth.

When you're finally ready to enjoy one of these 6.38 x 60 perfectos, you're in for one of the cigar world's greatest luxuries: an OpusX, aged to perfection. The alluring flavor of dark chocolate, the mature notes of leather and cedar, and the just-right flick of pepper on the tongue all come together to make an exquisite treasure.

No sting. Just pure natural design at its peak.
This rare vintage Fuente Fuente OpusX Serie "Heaven and Earth" El Escorpion Natural and Maduro is crafted by Carlos "Carlito" Fuente of Tabacalera A. Fuente y Cia. in Santiago, Dominican Republic. The OpusX El Escorpion is available in natural and Maduro wrappers, presented in the limited edition travel humidors made by Prometheus. Purchasing these cigars benefits the Cigar Family Charitable Foundation, which helps underprivileged children in the Bonao area of the Dominican Republic. This is a Perfecto Cigar with a Length of 6.38 and a ring Gauge of 60.
Please browse our selection of FFOX Heaven and Earth El Escorpion Maduro cigars at your leisure.

• What are the flavors like?
o Dark chocolate, leather, pepper, cedar

• What's the strength level?
o Medium-full

• Who is this cigar for?
o FFOX Heaven and Earth El Escorpion Maduro cigars are for true aficionados of Dominican tobacco and others deserving of ultra-premium smoke.

• Will I want to smoke it to the nub?
o You will be unable to resist.

• What's a good pairing with it?
o Great scotch. Maybe something classic like Johnny Blue?

• What's the best time/place to smoke this cigar?
o When you have earned a truly rare pleasure

• Any flaws/downsides?
o Price.
Payment & Security
Your payment information is processed securely. We do not store credit card details nor have access to your credit card information.