FFOX Heaven and Earth BBMF Maduro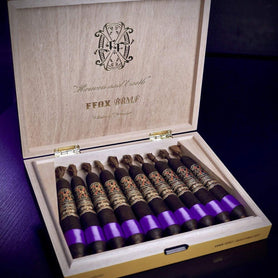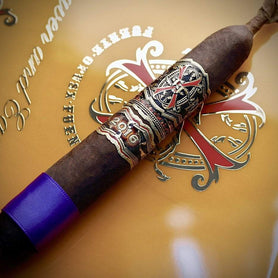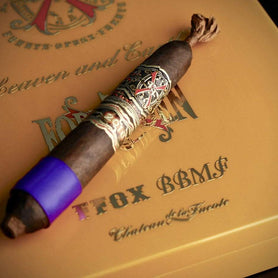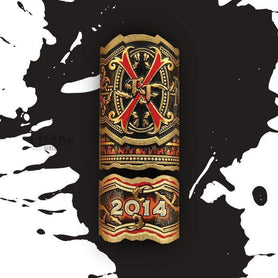 Just look at that picture. These Fuente BBMF Maduro cigars are to die for.

Fuente is a company that can go over the top to create an exquisite blend. We know that. And most of us probably thought that the OpusX hype had probably reached its peak many times before. After all, how long can a company ride a wave before it splashes onto the shore and subsides?

Well, the answer is, that OpusX isn't like a crashing wave. OpusX is here to stay, always with us to set the standard for outstanding Dominican puros.

As the story goes, they said it couldn't be done – that Dominican soil wasn't really up to the task of growing a wrapper leaf. Of course, the Fuentes have shown that tobacco Dominicana is more than good enough to serve as a cover leaf. In fact, people can't get enough of it! Ever since that Cigar Aficionado Cigar of the Year wins in 2005, OpusX has had a grip on us like the entangling roots of the strongest tobacco stalk.

The brand can get confusing as the special editions mix and mingle in our minds over the years. This is the "Heaven and Earth" series (which includes Scorpio, Rare Black, Tauros the Bull, and Purple Rain), made with the most select aged tobacco from the Fuente family vaults – the best of the best. Some of the leaf they were saving for their magnum opus is right here in the BBMF Maduro cigar.

At the head, you'll find a twisted ponytail cap that almost seems like a shame to cut off. At the foot of this figurado, you get a nipple tip that makes lighting quite easy. You don't need to engulf the entire end in flame – that would probably create burn issues. Just get the tip going and start enjoying from there. Things will probably catch just fine.

The wrapper leaf on the Fuente BBMF Maduro cigar was deeply fermented, turning near black in color. It offers a mature, complex flavor that you would expect to be super earthy, but the blend actually surprises a bit once you get it lit. It's peppery, but what will probably linger with you is the sweetness! There's a caramelly cinnamon note that calls to mind a well-spiced coffee cake. This "Big Bad Mother F***er" isn't so mean after all. It's full strength, but the real bullying happens when it deletes the memory of other cigars from your brain and becomes your number one favorite stick.

If you need any other reasons to revere the BBMF, it comes in a gorgeous high gloss box made by Prometheus artisans in France. The box itself is a work of art fit to be the carriage of one of the most desirable blends ever made. They're all there, fanned out and waiting with purple ribbons on. C'est Magnifique.

Smoke with caution. The Fuente BBMF Maduro cigar might put everything else in your humidor to shame.

(Please note that a portion of the proceeds from the sale of the Arturo Fuente Aged Selection FFOX Heaven and Earth BBMF Maduro is donated to the Cigar Family Charitable Foundation, which strives to improve the lives of children in need in the Bonao region of the Dominican Republic.)
- What are the flavors like? Pepper, caramel, cinnamon, coffee.

- What's the strength level? Full.

- Who is this cigar for? The Arturo Fuente Aged Selection FFOX Heaven and Earth BBMF Maduro cigar is for people who want to know what the finest Dominican puro on the planet tastes like.

- Will I want to smoke it to the nub? There's no other option.

- What's a good pairing with it? A humble choice is a fine stout, but your favorite bourbon would be the real champion pairing. If you can score a bottle of Blanton's, this would be the cigar to smoke it with.

- What's the best time/place to smoke this cigar? Very special occasions are the likely choice, although you can light this one up any time you need a smoke that's guaranteed to be a sure thing.

- Any flaws/downsides? Very limited availability and high price. Sadly, they go hand in hand.
Payment & Security
Your payment information is processed securely. We do not store credit card details nor have access to your credit card information.