Alec Bradley Trilogy Exotic Maduro Toro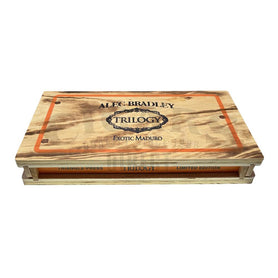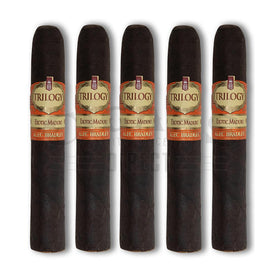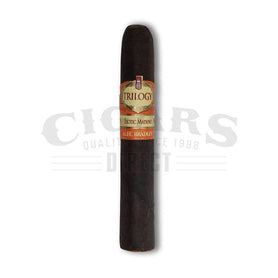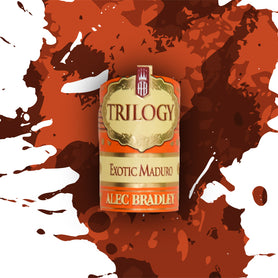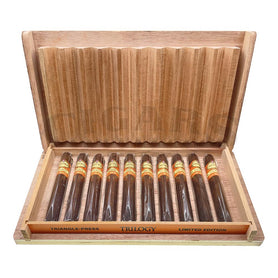 This Alec Bradley Trilogy Exotic Maduro Toro cigar is made in Honduras. Outside, you'll find a Maduro wrapper. Inside, the binder is Honduran, and the filler is Honduran, Nicaraguan. This is a Toro cigar with a length of 6.00 and a ring gauge of 52.
The Alec Bradley Trilogy Exotic Maduro is probably going to be the first triangle cigar you encounter. It may well be the only one! But even if nothing else happens, it will be a bit memorable for that reason.

Longtime smokers might recognize the name. Alec Bradley made Trilogy cigars for about ten years, putting the line on the shelf around 2010. In 2022 it was reborn, with a fresh slate of delicious tobaccos to take these cigars into a new era.

Alec Bradley fans will be expecting Honduran tobacco and will find it in the long-filler blend and the binder (although it's worth noting that the binder is Connecticut seed leaf). There's also Nicaraguan tobacco in the filler blend, and then the cigar is finished with your choice of three wrappers. In this case, you're looking at a well-fermented Jalapa Nicaraguan Maduro cover leaf.

Is it exotic? Well, maybe. Is it Maduro? Most definitely.

The other choices are Corojo and Cameroon, but those who love a nice earthy profile will be right at home with the Alec Bradley Trilogy Exotic Maduro cigar. You can toast it up and right away get plenty of body and strength. It's earthy and sweet, with a hint of spice to keep you goosed as you go along. Chocolate hunters will probably be able to pull out that semi-sweet chip note that puts you in the mood for a little dessert, too.

The cigars are rolled at Tabacos De Oriente, a Plasencia factory in Honduras. Someone down there had to pick up a new skill because these are finished in a triangle press. Box pressing, which creates a cigar with a rectangular shape, is nothing new. Cigar makers have done that for ages for a variety of reasons, but the triangle press is quite rare. Expect to get a lot of aeration as you smoke due to the natural shape of the mouth on a triangle, as opposed to the standard circle. Could be an interesting smoking experience for those in search of something different.

Please browse our selection of Alec Bradley Trilogy Exotic Maduro cigars at your leisure.

- What are the flavors like? Earthy and sweet with a hint of spice.

- What's the strength level? Full.

- Who is this cigar for? Alec Bradley Trilogy Exotic Maduro cigars are for folks who want a wacky cigar with a satisfying earthy flavor profile.

- Will I want to smoke it to the nub? We don't see why not.

- What's a good pairing with it? A good IPA might make the whole experience a lot more interesting. Something like Dogfish Head 90 Minute IPA would be an upgrade.

- What's the best time/place to smoke this cigar? When a relationship triangle is driving you nuts.

- Any flaws/downsides? Could be weird to smoke. It won't feel like your usual cigar, that's for sure.

Payment & Security
Your payment information is processed securely. We do not store credit card details nor have access to your credit card information.