Alec Bradley Magic Toast Perfecto L.E. 5th Anniversary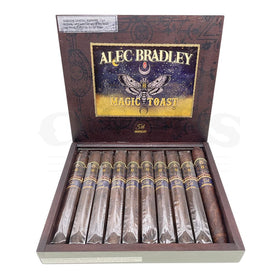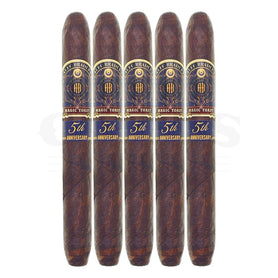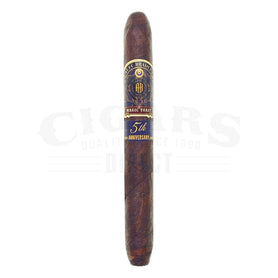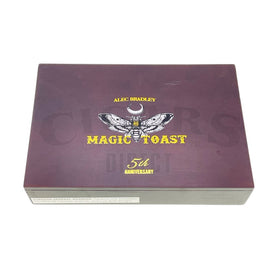 This Alec Bradley Magic Toast Perfecto L.E. 5th Anniversary cigar is made in Honduras. Outside, you'll find a Honduran Maduro wrapper. Inside, the binder and filler blend aged tobacco from Honduras and Nicaragua. This is a Medium Perfecto cigar with a length of 7.00 and a ring gauge of 54.
Alec Bradley Magic Toast Perfecto L.E. 5th Anniversary cigars celebrate a blend born after a moment when the quality of tobacco in a particular field made men so giddy that they had to drink a toast to the company's future right then and there.

It must have been some primo stuff!

Alan Rubin and his growers were right about the future of the Alec Bradley cigar brand, as it has continued to earn accolades for its wonderfully flavorful premium blends. And as ever, rich Honduran tobacco is the foundation of that success.

The 5th Anniversary Magic Toast cigar follows the original format. Your long-filler mix includes Honduran Jamastran corojo and criollo and Nicaraguan Jalapa criollo. There's a dual binder around that, which combines Honduran Trojes criollo and Nicaraguan Estelí criollo. The lush, dark Maduro wrapper was also grown in Honduras.

The flavors are seductive. Cherries and leather are joined by roasted peanuts and fleeting herbal notes. It's a blend that keeps things interesting from one draw to the next. It's a multi-dimensional flavor journey that will have you trying to pick the taste of that special tobacco out of the mix. It's a task that is fun to try while also being impossible to accomplish.

And yes, the leaf of that special field IS still in the mix.

Some might say that five years is too soon to celebrate a blend. We say there's no wrong time to celebrate cigars (but we admit being very, very biased on that point).

Please enjoy these limited-edition Alec Bradley Magic Toast 5th Anniversary cigars at your leisure.

• What are the flavors like?
o Leather, dark fruit, roasted peanut, herbals

• What's the strength level?
o Medium

• Who is this cigar for?
o Alec Bradley Magic Toast 5th Anniversary cigars are for fans of rich, rustic Honduran/Nicaraguan tobacco blends

• Will I want to smoke it to the nub?
o It should hold your attention for a while.

• What's a good pairing with it?
o Want to sweeten the deal? Pour some Elijah Craig Barrel Proof on the rocks and melt those cares away. Thanks, Kentucky.

• What's the best time/place to smoke this cigar?
o The middle of the night, when you've got something amazing cooking and can't sleep because you're so excited.

• Any flaws/downsides?
o This flavor may not be smooth enough for everyone's tastes.
Payment & Security
Your payment information is processed securely. We do not store credit card details nor have access to your credit card information.