601 La Bomba Warhead VIII Box BP Gordo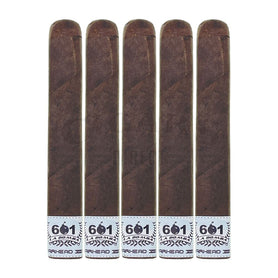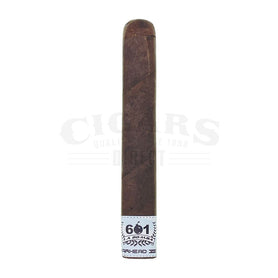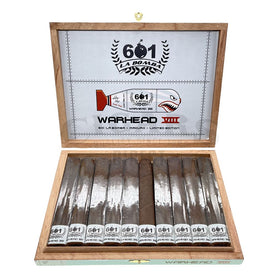 This 601 La Bomba Warhead VIII Pressed Gordo is made in Nicaragua. Outside, you'll find a Connecticut Broadleaf wrapper. Inside, the binder is Nicaraguan, and the filler is Nicaraguan. The 601 La Bomba Warhead VIII Box-Pressed Gordo is a Full-Bodied Gordo-shaped cigar with a length of 6.00 and a ring gauge of 60.
Boom! The original bomb is back, baby, and better than ever—this 601's flagship smoke for most folks, delivering max strength and flavor. For people who enjoy an in-your-face stogie, it's time to meet your maker.

This is the 8th incarnation of the 601 La Bomba Warhead special edition. That's what the VIII means, for those of you who (understandably) slept through Roman numerals in class. Previous installments brought the fire, and this one is no different.

For those who haven't encountered the Warhead, it's a tweaked version of the classic 601 La Bomba blend. The Warhead VIII is still a Nicaraguan puro made with high-quality leaf, but the Habano wrapper is swapped out for a dry and dark Nicaraguan broadleaf. Most of the broadleaf we see on highly rated blends comes from the Connecticut River Valley, but this tobacco is grown way down south.

601 La Bomba Warhead VIII is a chubby mother – it's a 6 x 60 box-pressed Gordo Made at A.J. Fernandez's San Lotano factory. It takes around two hours to nub out at that size, so clear your schedule. Also, get ready for lots of smoke. You'd expect nothing less from a ferocious explosive-themed stogie, right? This thing lands in your ashtray and sets off a mushroom cloud of flavorful smoke that just doesn't quit. It's not a mild cigar that you can get away with in polite company.

Get a good sniff of it before you light up. The cold bouquet will pull you in with earthy, chocolatey aromas. You'll be in a tailspin, on a collision course, and headed directly for impact with this big bomber. Once it's toasted, enjoy the potent notes of black pepper, cocoa, leather, and a hint of maple on the finish. The broadleaf helps make the flavor profile complex, ensuring that the 601 La Bomba Warhead VIII "hits the mark."

601 founder Erik Espinosa says this is one of the company's most sought-after blends. People can't get enough of these pull-no-punches cigars that the team has gotten so good at.

We're not usually ones to focus on art, but the bands for these are so freakin' cool. They unwrap to reveal the shape of a bomb in WWII style. In particular, this one features a shark-based design used by the Flying Tigers, an American mercenary aviation unit hired to defend China from Japan.

This one's dropping from the skies. Duck, cover, and get your lighters ready!

Please browse our selection of 601 La Bomba Warhead VIII cigars at your leisure.
Customer Reviews
Write a Review
Ask a Question
un humo de cuerpo completo con una tonelada de sabor
un humo de cuerpo completo con una tonelada de sabor
Payment & Security
Your payment information is processed securely. We do not store credit card details nor have access to your credit card information.