E.P. Carrillo Pledge Prequel Robusto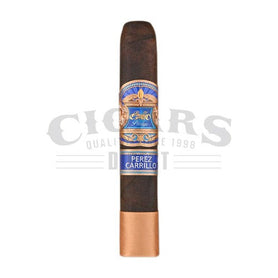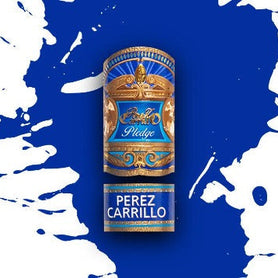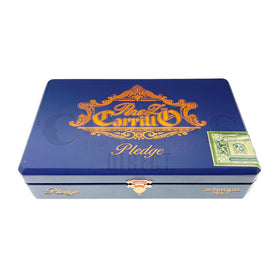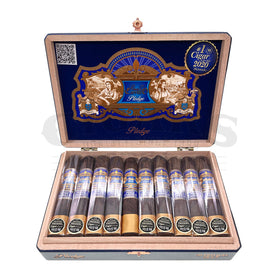 Rated 98 and Named #1 Cigar of the Year of 2020!
98 points. Ninety-eight points! This ridiculous cigar was awarded a 98-point rating by Cigar Aficionado in its 2020 Cigar of the Year win, making it not just one of the best cigars of the year, but one of the best cigars ever made.

Does the E.P. Carrillo Pledge Prequel give you superpowers when you smoke it?
Do you sprout an extra inch where it counts when you draw on its rich, complex smoke?
Does it put money INTO your bank account instead of taking it out?

How does a cigar earn a rating like that?

Well, let's get into it.

Let's just deal with the facts, first.

There's Nicaraguan long-filler tobacco on the inside, rolled into an Ecuador-grown binder. Nothing too crazy there. And it's finished with a Connecticut broadleaf wrapper. Wait, no. A Connecticut Habano wrapper. Oooh. That's different. This man's got a nice Cuban-seed crop grown right here in the US of A. We're in.

The E.P. Carrillo Pledge Prequel is actually a trilogy smoke. For those who enjoyed part one (E.P. Carrillo La Historia), you might have been impressed by the #2 smoke of the year in 2014. You probably also had a puff on part 2, the Encore, which was 2018's Cigar of the Year. Well, this cigar line is obviously part of some deal with the Devil (or an angel, perhaps? Do they make deals?). This is part 3 and it's an absolute gem.

You're going to have trouble finding this one, we fear. It's going to be selling like crazy.

The way Cigar Aficionado tells it, there's a wealth of complex flavor notes in the Pledge Prequel cigar like spicy oak, licorice, black cherry, and of course, our dear friend black pepper. But it's the late baked apple note that had the judges back in their chairs saying, "Good God this smoke is fantastic". There are some cigars that you light up, and somewhere as you're drawing on them, you realize it's a different experience altogether from your usual smokes, even if you've got premium sticks in your humidor. You can just tell it's a special smoke. The Pledge Prequel is one of those cigars.

Here, in his fifth decade in the cigar business, Ernesto Perez-Carrillo is showing us all that cigar making is neither art nor science, at the highest levels, it's pure magic.

Please browse our selection of E.P. Carrillo Pledge Prequel cigars at your leisure.


- What are the flavors like? Oak, licorice, black cherry, black pepper, and more
- What's the strength level? Full
- Who is this cigar for? The E.P. Carrillo Pledge Prequel is a cigar for people who want to light up and ascend directly to heaven.
- Will I want to smoke it to the nub? You won't let a single draw go to waste.
- What's a good pairing with it? Ummm A lighter?
- What's the best time/place to smoke this cigar? It needs to be enjoyed when no one will bother you. Actually, this one is so nice that people probably won't be able to bother you, so maybe you can just light up anywhere. We've also heard that people who smell the aromas will simply sit beside you inhaling deeply and will even ask you to blow smoke in their general direction. We might have made that last part up.
- Any flaws/downsides? It ends.
Payment & Security
Your payment information is processed securely. We do not store credit card details nor have access to your credit card information.