Oliva Rated Variety 6 Cigar Sampler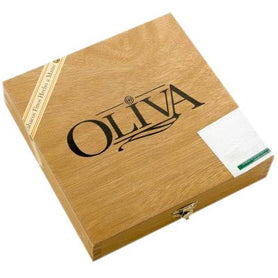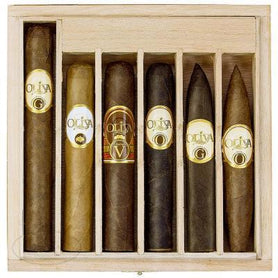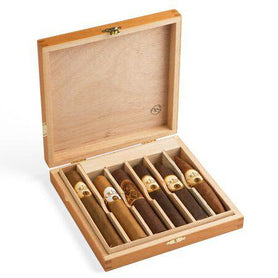 Oliva cigars hold a firm place among the highest-rated in the cigar industry. Their cigars appear regularly on numerous best-of-the-year lists. They've held a spot in Cigar Aficionado's Top 25 Cigars each year since 2005, with the exception of 2015. Now that's impressive. Our Oliva Rated Variety 6 Cigar Sampler presents six 90+ rated premium cigars in a charming, compact, handsome wooden box.

Each offering here will increase your humidors credibility big time.

The Oliva Rated Variety 6 Cigar Sampler contains one each of the following cigars.

Oliva Serie G Maduro

Getting things started is the 93-rated Oliva Serie G Maduro. This Belicoso beauty almost overflows with Nicaraguan Habano long-fillers. A Cuban-seed Habano Nicaraguan binder holds this blend snug, and a crazy dark, oiled-out, toothy Connecticut broadleaf Maduro wrapper ties it all together. The result is a medium-bodied smoke with flavors of coffee, cedar, spice, pepper, and sweetness.

The G Maduro is smooth all the way through with an even burn and clean draw.

Oliva Serie G

Next in the Oliva Rated Variety 6 Cigar Sampler is the 91-rated Oliva Serie G. This 6 x 50 toro wears a dark African Cameroon wrapper. At the cigar's core is a stealthy Oliva family blend of Nicaraguan Habano long-fillers that put in work with a Cuban-seed Habano Nicaraguan binder. With everything firing on all cylinders, this medium-bodied stick first sends a surge of creamy chocolate and sweetness to your palate. A little way down flavors of cedar, leather, and coffee enter the scene. Sweet tobacco appears toward the end, and the creamy chocolate notes pretty much run the show by this time.

The G is a great cigar for a wide variety of occasions, from outdoor parties to morning walks to grabbing some alone time in your favorite smoking spot behind your toolshed. Cigars like this are an adventure, and at the same time, perfect for an adventure. So choose your own adventure, get to smoking, and enjoy the ride.

Oliva Serie O

Enter the Oliva Serie O. Not only did Cigar Aficionado award a 94-rating to the O, but they also named it one of Cigar Aficionados Top 25 Cigars of 2013. Though this is nothing new to Oliva, as they've held a spot on that list since 2005, with the exception of 2015.

At its core, this Nicaraguan puro packs a potent blend of tobaccos grown in Condega, Esteli, and Jalapa Valley using Habano seeds. A feisty Habano binder cradles this blend, and a sun-grown Habano wrapper is the final touch.

The result is a medium to a full-bodied perfecto-shaped cigar that engulfs your palate with earth, cedar, and spicy flavors. Keep on smoking, and sweet flavors enter the mix as the spice, earth, and cedar notes are still rocking. In the end, the cedar is the king of the hill with subtle hints of coffee and nuts.

Oliva Serie O Maduro

The 90-rated Oliva Serie O Maduro utilizes Nicaraguan Habano tobacco only. A Nicaraguan binder sits just beneath a veiny, tooth-ridden, oily, almost midnight black Connecticut broadleaf wrapper. It's the sweetness of this wrapper that creates a full-bodied smoke while still remaining smooth. Once lit, you'll immediately notice this cigar's sweet, spicy aroma. You'll also receive a hefty dose of black pepper, leather, earth, and spice.

If you're looking to tango with a strong yet smooth opponent, Mr. O is the one to see.

Oliva Serie V

Up next is the jaw-dropping 95-rated Oliva Serie V. The Serie V also holds the #3 spot in Cigar Aficionados' picks for 2017 Cigar of the Year. To start, a striking Habano sun-grown wrapper drapes over a hearty Nicaraguan binder. This binder conceals ultra-fermented Jalapa Valley Ligero. The Ligero Especial is another name for this Nicaraguan puro. Light it up, and creamy, smooth smoke envelopes your palate with a plush experience of sweetness, coffee, chocolate, and spice.

Oliva Connecticut Reserve

Closing out the Oliva Rated Variety 6 Cigar Sampler, we have the mellow to medium-bodied Oliva Connecticut Reserve. The wrapper on this thing is close to a butterscotch blonde, and it looks crazy delicious. At the cigar's core, we find aged Nicaraguan long-fillers and a Nicaraguan binder. These work with an ultra-smooth Ecuadorian Connecticut wrapper to produce a creamy smoke that is hard to forget.

Once lit, the Oliva Connecticut Reserve delivers an opening blast of spice, but this is nothing new from a premium Nicaraguan. Shortly after this blast, flavors of sweetness, nuts, cream, cedar, and pepper announce themselves. Travel a little further down, and you're tasting leather along with an increase in the nutty flavor. At this point, the cedar and pepper notes are still going strong. The smoke wraps up with leather, coffee, and nuts.

Please enjoy the Oliva Rated Variety 6 Cigar Sampler at your leisure.

Customer Reviews
Write a Review
Ask a Question
Payment & Security
Your payment information is processed securely. We do not store credit card details nor have access to your credit card information.