My Father Gift Set with Box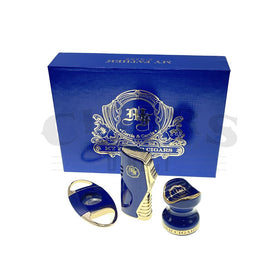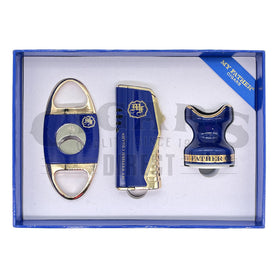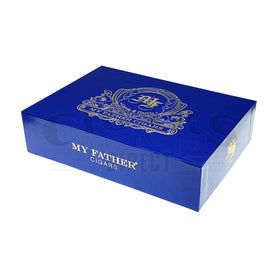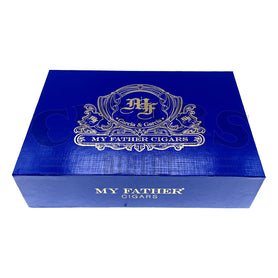 My Father cigars are some of the best in the world. With two Cigar Aficionado Cigar of the Year wins (for Flor de las Antillas and Le Bijou 1922), the company has joined the ranks of the very best ever to roll tobacco. A great way to celebrate the brand is to smoke its finest offerings. And a great way to do that is with a fantastic set of accessories like the ones you'll find in this My Father Gift Set.

Inside the bright blue box with gold inlay, you'll find a high-quality My Father lighter, cutter, and cigar rest.

The My Father cutter is a double guillotine-style cutter. Insert your thumb and forefinger into the holes to separate the blades. Then, insert the tip of your cigar into the hole to the desired length. It can handle up to a 56-ring gauge cigar. Press the blades back together to clip the tip, and you're good to go for a smoke. Not only is the cutter pretty to look at, but it's well made and delivers smooth action for each and every cut.

The ceramic My Father cigar rest you'll find in this gift set is something many cigar lovers don't have. Cigars are simply laid down on the edges of tables in the hopes that they won't roll off. But a cigar rest is a handy thing to have. It keeps cigars right where they should be, keeps them lit, and keeps burn marks off any of your furniture. And with the non-slip cork bottom, the rest will stay in place, too. Many folks simply smoke right through a cigar in one sitting, but interruptions arise, and a cigar rest is a convenience you can really get used to once you've got one at hand.

Finally, this My Father Gift Box contains a really fine lighter. The push-button mechanism gives you a nice strong flame whenever you need it. Actually, it gives you three of them. The triple jet flame is perfect for lighting cigars outside when the breeze would blow out a traditional soft flame cigar. You can't want to struggle at smoke time to get your stogie lit, and with this My Father blue lighter, you won't have to. It's the perfect tool to make cigar time easy. On top of that, it looks quite nice.

For My Father cigar fans, this gift set is an outstanding choice. It makes a perfect Father's Day gift, birthday gift, Christmas gift, or gift for any other occasion. Even if you're not sure what brand of cigars your recipient enjoys, this gift set is a decent choice simply because of its aesthetics and craftsmanship. There are few people who wouldn't enjoy these accessories. And if you yourself need a bit of an upgrade in your accessories, this is a bit of a nice way to treat yourself.

Now all you need are a few My Father cigars!
Customer Reviews
Write a Review
Ask a Question
My Father Gift Set and Box
I was taking the gift to a friend in Arizona. Unfortunately, while at the Tampa Airport, going through the TSA, the @&&$$'s confiscated the lighter in the box. Obviously I was very upset and told the officer what I thought. He didn't care and through the lighter in one of their bins. He probably is enjoying the lighter on his patio. Anyway, I ordered another gift box and you sent it him. His name is Rob Ekern, and it was sent a couple weeks ago. Thanks If you want to talk further call me at +494-606-2924.
Payment & Security
Your payment information is processed securely. We do not store credit card details nor have access to your credit card information.