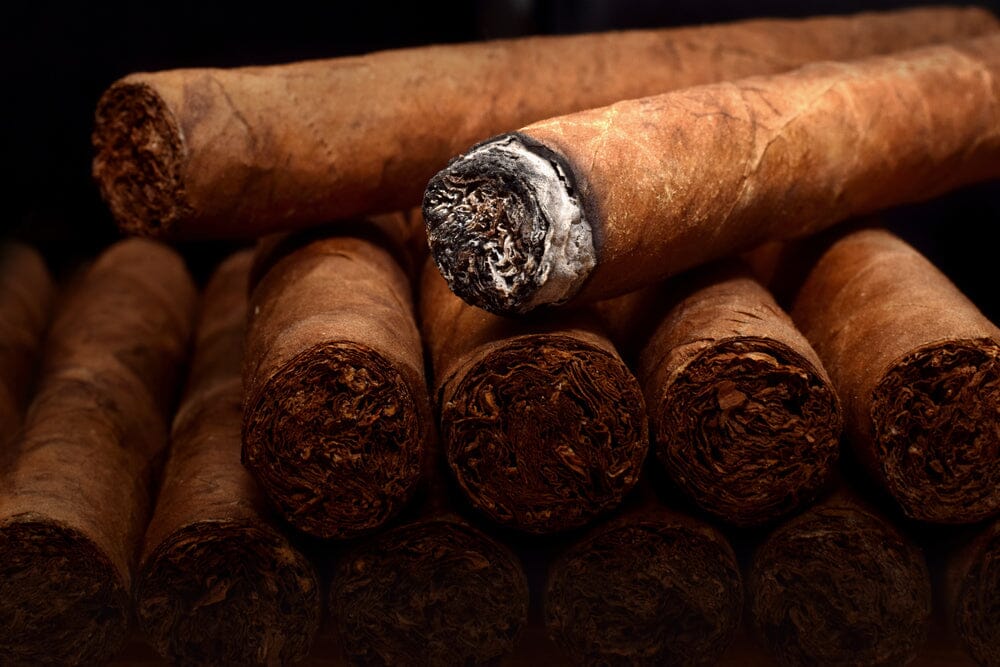 The Best Deals to Fight Inflation – Our Best Cigars UNDER FIVE BUCKS!
Oh, LORD. It's crazy out there when it comes to prices on everything. There's nothing that isn't getting touched by inflation, and it's a real bitch. Every time we look, something costs 3x what it should in our minds. But those who've been through challenging times know there's always a good value to be found somewhere for those who will look.
Well, you won't have to look. We're serving up good deals on a platter in this article.
In this article, we'll profile some decent smoke that you can usually get for less than $5 a stick on our site. When it comes to cigars, you really can't beat that and still stay in the high-quality zone. These are handmade at yesteryear prices. Get 'em while they're still cheap!
Arturo Fuente Gran Reserva Exquisitos Maduro
Short, sweet, and to the point – that's Arturo Fuente Gran Reserva Exquisitos Maduro cigars. These are small-format smokes from one of the best cigar makers in the business.
Fuente Dominican tobacco and blends have led to multiple Cigar of the Year wins, and they're nothing to sneeze at. They're in the #1 Don Carlos, #1 OpusX, and there's some sibling leaf right here in these Exquisitos. These smokes are topped with a nicely fermented Maduro wrapper, and you get something earthy and with a hint of molasses on the finish. This is absolutely a daily smoker, and at these prices, you can totally burn them from end to end with zero financial guilt.
Tatuaje Nicaragua Reserva Petite Tatuaje
Speaking of championship pedigrees, the Tatuaje Nicaragua Reserva is a collaboration between Pete Johnson, who founded Tatuaje, and José "Don Pepin" Garcia. Don Pepin, just like the Fuentes, has his own Cigar of the Year wins that show he absolutely has the power to create an incredible smoke. He's been capably handling Tatuaje smokes since the beginning, and he's still ensuring that when you light up the Nicaragua Reserva, you get something satisfying.
The petite version again keeps the price totally reasonable. It's leathery and spicy, with plenty of boldness and strength to ensure that you get every cent of value out of this stogie. This is a classic piece of tobacco, and is a budget-friendly go-to smoke to keep on hand at all times.
Nub Nuance Single Roast
Dominican tobacco with smooth and creamy Connecticut shade wrapper – the Nub Nuance Single Roast is a glorious morning coffee smoke. It's got a very friendly flavor profile, but has medium strength to help perk you up and open those eyes.
Nub is an Oliva family product that gives you a great short-format smoke. It took the world by storm and has since become a humidor mainstay. Due to its small size, you can get it at an affordable price, but you'll get to enjoy really nice tobacco. Like the other blends on this list, we're going for as much quality as we can get per dollar. The Nub Nuance is a best seller for a reason, and it can still be had without any crazy upcharge.
You get the coffee on. We'll put the Nubs in the mail.
Punch Rare Corojo Elites
What a mix you get with these Punch Rare Corojo Elites. These take a Nicaraguan filler blend, bind it with hearty Connecticut broadleaf, and finish with an Ecuador Sumatra wrapper. Punch is an ancient brand, and the company has collectively lost more tobacco knowledge than most organizations will ever acquire. While this arm of the company is known for Honduran tobacco especially, this special mix gets you a big flavor at a manageable price.
It delivers so much! Cigar Aficionado, in giving it a 92-point rating, described it by saying, "The smoke is rich and aromatic, complementing flavors of leather and wood. It has notes of cherry and a fine finish." It's just a great stogie for the price – which is usually running less than five dollars a stick.
Plasencia Reserva Original Nestico
"Get yer' pure Nicaraguan cigars here!" Dang, we wish that hawkers at the ballpark could sell those. Wouldn't that be amazing? Cigars and beers while watching baseball? 
Ah, well. Not on this planet.
As a consolation prize, we offer these totally affordable Nicaraguan puros from the Plasencias, masters of Nicaraguan tobacco. Reviewers at Cigar Aficionado called out a ton of notes, including florals, leather, oak, molasses, caramel, and almond paste. After that cavalcade of flavors, you get a nice light finish.
These are perfect with a cold brew, and at the prices we've got for the Nestico 4.5 x 36 Vitola, you've got a few bucks to spare to ensure a perfect pairing.
AJ Fernandez Last Call Maduro Chiquitas
Speaking of masters of Nicaraguan tobacco, AJ Fernandez has his famous Last Call out in a portable format he calls Chiquitas. These 3.5 x 50 tobacco bullets pair Nica leaf with a Pennsylvania broadleaf wrapper to great effect.
They offer a surprisingly lively flavor profile. In an 89-point review, Cigar Aficionado reported that "First puffs are bracing with a zesty, lemon-pepper note that frames a woody core. Lighter hints of orange marmalade, pear and tea add a bit of sweetness." So bright! These would be fantastic with an IPA like Lawton's Sip O' Sunshine.
You wouldn't think it when you see the wrapper, but these dark smokes have a tasty light side that makes it worth the low price of admission.
The cigar habit can survive tougher times, especially when you buy better value smokes like the stogies on this list. Your sessions will be enjoyable without any of the guilt that might come with overspending. We'd also recommend checking out any factory seconds packages we have and our Hot Deals tab (the button in red at the end of the tab row at the top of the page).
Happy smoking!