Tatuaje Surrogates Big Ten Robusto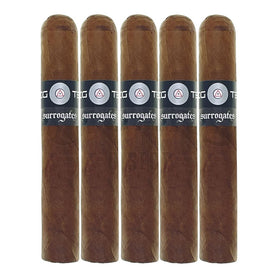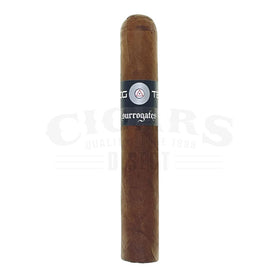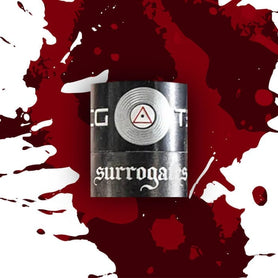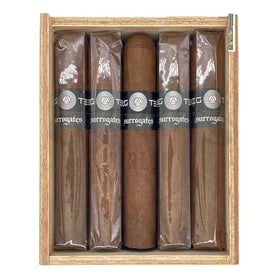 With names like Animal Cracker, Skull Breaker, and Satin Glove, Surrogates is a playful line of cigars. But did you know it's already been ten years of fluffy white clouds? That's right. We've already had another ten years of tasty limited edition blends from the proven partners: José "Don Pepin" Garcia and Pete Johnson. We were saying the same thing in their first-decade run. Now look at them! The hits just don't stop coming. That's two decades and counting…

Tatuaje Surrogates Big 10 is true to its name. Reviewers are pretty consistent in describing this as a big, strong, "powerhouse" cigar. That can mean different things to different people, but the nicotine impact is definitely there, as is flavor. Get ready for the slap of black pepper and the kiss of cookie crème, along with a lot more going on. We're guessing these are going to sell out fast.

Limited editions are like that, ya know?

We can definitely say that these are for a particular kind of smoker. Don't pick these up if you want smooth blends, mild sticks, or something gentle for an unremarkable morning coffee. Light up Tatuaje Surrogates Big 10 when you've got a hankering for something that gets out of the gate like a thoroughbred and brings everything that Nicaraguan leaf can bring.

Since their original effort together, the Cubanesque Cabinet Tainos cigars, helped Garcia and Johnson both step into the spotlight around 20 years ago, both have risen and risen some more. Garcia was doing it again, creating a second act even more impressive than his first as a maestro of maestros in Cuba. Johnson was a tobacco lover also getting into a second act, as his cigar hobby eclipsed his passion as a metal bassist in the band Hung Jury.

Who knows what the third act will hold? All we know is that some celebration is certainly due at this point.
This Tatuaje Surrogates Big Ten Robusto cigar is made in Nicaragua. Outside, you'll find an Ecuadorian Habano Rosado Oscuro wrapper. Inside, the binder is Nicaraguan, and the filler is Nicaraguan. This is a Full-bodied Robusto shaped cigar with a length of 5.25 and a ring gauge of 52.
Please browse our selection of Tatuaje Surrogates Big 10 cigars at your leisure.

• What are the flavors like?
o Black pepper, cookie crème

• What's the strength level?
o Full

• Who is this cigar for?
o Tatuaje Surrogates Big 10 cigars are for people who want to be double-legged into the ground by a cigar.

• Will I want to smoke it to the nub?
o You may WANT to, but being able to is a different matter. Food first with this bad birthday boy.

• What's a good pairing with it?
o Go in with a nice IPA or whiskey. Lawson's Sip of Sunshine is good if you want to brighten up the flavors with something a touch citrusy.

• What's the best time/place to smoke this cigar?
o NOT when you've got things to do anytime soon.

• Any flaws/downsides?
o Power is going to be a bit much for some.
Payment & Security
Your payment information is processed securely. We do not store credit card details nor have access to your credit card information.