Tatuaje 10th Anniversary Belle Encre Perfecto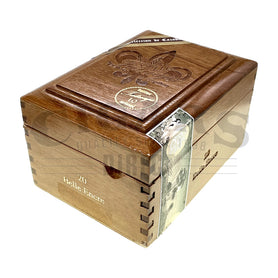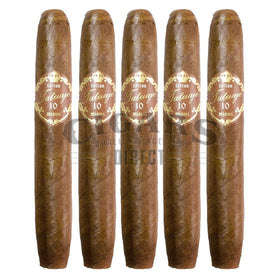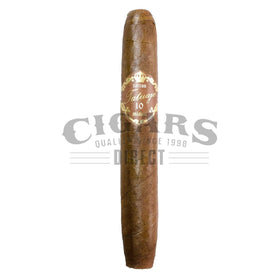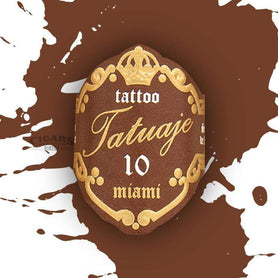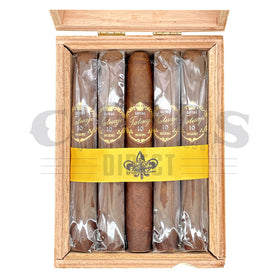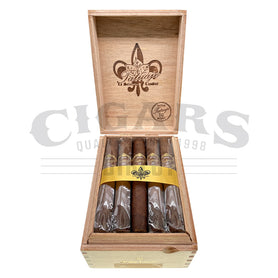 This Tatuaje 10 Year Anniversary Belle Encre Perfecto cigar is made in Nicaragua. Outside, you'll find an Ecuadorian Habano wrapper. Inside, the binder is Nicaraguan, and the filler is Nicaraguan. This is a Perfecto cigar with a length of 5.40 and a ring gauge of 48.
If your business is still alive one year from the start, you'll start to feel like there's a chance you'll make it. If it's making money ten years later, you KNOW you've done well. And at that point, you really need to celebrate.

Here today, still here tomorrow is an impressive feat.

So around the tenth birthday of Tatuaje in 2013, company founder Pete Johnson ordered up a special blend to commemorate the day he finally made the leap and created a cigar of his own. Fortunately, he chose an excellent blending partner that year. Back then, he was just José Garcia, a Cuban master roller and blender, not well known in the U.S. market. This Mr. Garcia put together a nice Cubanesque blend for Tatuaje's Cabinet Tainos cigars, and these were well received, even making Cigar Aficionado's Top 25 list.

As it turned out, this was just the beginning for both Tatuaje and the man we now know as "Don Pepin" of My Father cigars, legendary cigar man.

For the Tatuaje 10 Year Anniversary Belle Encre cigars, Johnson again turned to Don Pepin, a man he knows he can trust to handle production of his in-house birthday blend. The two settled on some tasty Nicaraguan long-fillers and a richly brown Ecuadorian Habano wrapper. Flavors of red pepper, baking cocoa, and creamy cappuccino make this one good right from the start. With 90 points from Cigar Aficionado, it's a certified yummy cigar.

The name means "beautiful ink" in French. If you take a look at any portrait photos of Pete Johnson, you'll get where he's coming from right away. He named the brand after tattoos, and he clearly has a fondness for that fascinating skin art. What else would you expect from a metalhead turned tobacco man?

Scratch that. No one knows what to expect from a person like that. We're just happy to come along for the ride.

As the 20th Anniversary of the company's creation approaches, we enjoy a toast to ten years down, twice over. It's a success story as epic as any metal ball.

Please browse our selection of Tatuaje 10 Year Anniversary Belle Encre cigars at your leisure.

- What are the flavors like? Red pepper, baking cocoa, creamy cappuccino

- What's the strength level? Medium

- Who is this cigar for? Tatuaje 10 Year Anniversary Belle Encre cigars are for fans who have been there from day one, and all the folks who lit up along the way.

- Will I want to smoke it to the nub? This one delivers really nice flavor.

- What's a good pairing with it? A good whiskey would fit here, but so would a celebratory wine. Freakshow Cab Sauv is right on brand.

- What's the best time/place to smoke this cigar? To celebrate the success of an unconventional character

- Any flaws/downsides? We're a little split on whether this or the Maduro version is the better buy.

Payment & Security
Your payment information is processed securely. We do not store credit card details nor have access to your credit card information.