Macanudo Estate Reserve Flint Knoll Churchill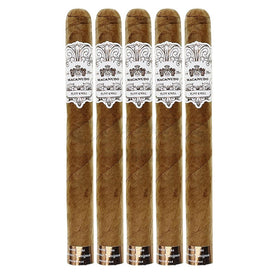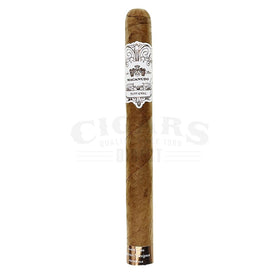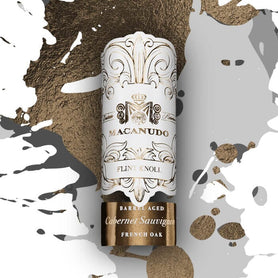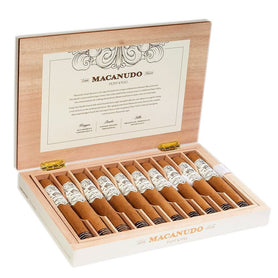 "From the hand-picked grapes of Napa Valley to the hand-tended tobacco of Central America, Macanudo Estate Reserve takes two gifts from the Earth and joins them as one."

Macanudo Estate Reserve Flint Knoll cigars use one of our very favorite combinations in life: alcohol and cigars. What can we say? We're suckers for a vice double down. It's one of the great ways to relax and enjoy the good life. But this pairing works a bit differently than what we all take part in on our porches and patios of an evening. For this blend, the binder was aged in cabernet barrels.

Now, this doesn't take the flavor of wine into the leaf. (If you're after something like that, you'll need to check out Drew Estate ACID One cigars). Instead, Macanudo Estate Reserve Flint Knoll cigars bring in the rich and fascinating flavors of a toasted barrel but manage to keep these in balance with other notes. You'll get to enjoy the taste of stronger notes like cedar and pepper, but won't miss the milder aromas like vanilla and nuts.

Anyone who knows Macanudo knows that their classic mild profile is something they never miss. They are one of the quintessential "coffee cigar" companies that Americans have been waking up with for decades and decades, and those delicious notes are a big part of why.

The Macanudo Estate Reserve Flint Knoll cigar has quite a lot going on under the hood, which is how it gets such a complex set of flavors going on. The long-filler combination at the core of the stick includes Brazilian mata fina, Dominican olor piloto Cubano, and Nicaraguan Jalapa. Is it necessary to hit up so many different countries to make a good cigar? When you know what you want, you know what you want! Macanudo settles for nothing less than a blend that is bang-on for the experience they're trying to create.

Once the filler blend is set, it's bound with cabernet barrel-aged Connecticut broadleaf. That alone is quite the mouthful, so a sophisticated and mild Ecuadorian Connecticut is the wrapper choice to finish things off in traditional Macanudo style.

Exploring the combined pleasures of alcohol and tobacco is not new territory, but there is much that remains unexplored when it comes to blending and aging techniques. And so this is a lovely crossover that we're quite happy to bring to your humidors as we continue the journey deeper into wine country.
This Macanudo Estate Reserve Flint Knoll Churchill Limited Editon cigar is made in the Dominican Republic. Outside, you'll find an Ecuadorian Connecticut wrapper. Inside, the binder is United States Broadleaf, and the filler is Brazilian, Dominican, and Nicaraguan. The Macanudo Estate Reserve Flint Knoll Churchill is a medium-bodied Churchill-shaped cigar with a length of 7.00 and a ring gauge of 49.
Please browse our selection of Macanudo Estate Reserve Flint Knoll cigars at your leisure.

• What are the flavors like?
o Toasted cedar, pepper, vanilla, nuts

• What's the strength level?
o Mild-medium

• Who is this cigar for?
o Macanudo Estate Reserve Flint Knoll cigars are for fans of barrel flavors who want a masterfully blended cigar that captures them in just the right way.

• Will I want to smoke it to the nub?
o Keep the wine flowing and the foot smoking!

• What's a good pairing with it?
o Bold wine is the recommendation of Macanudo. If you can't score Flint Knoll, snag a bottle of the highly-rated Tablas Creek Vineyard Mourvèdre 2020.

• What's the best time/place to smoke this cigar?
o Sunset, after a back patio dinner

• Any flaws/downsides?
o A bit pricey, but there's a lot that went into this blend…
Payment & Security
Your payment information is processed securely. We do not store credit card details nor have access to your credit card information.