Davidoff Aniversario No. 1 Limited Edition 2023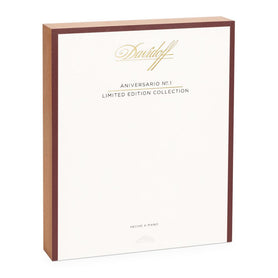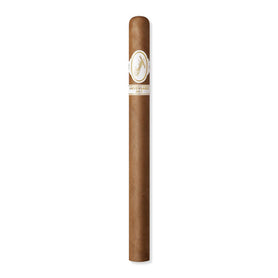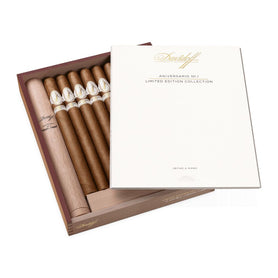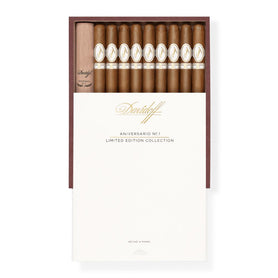 This Davidoff Aniversario No. 1 Limited Edition 2023 cigar is made in the Dominican Republic. Outside, you'll find an Ecuadorian Connecticut wrapper. Inside, the binder is Ecuadorian, and the filler is Dominican Republic - Piloto Visus / San Vicente Visus / San Vicente Mejorado Visus. This is a Medium-Full Bodied Double Corona cigar with a length of 8.67 and a ring gauge of 48.
Originally blended as a birthday present from Zino Davidoff to himself, the Aniversario is back in a limited-edition format as part of a revival series that includes the Classic and Millennium. The time was right to bring these much-enjoyed blends back to the forefront of the humidor for Davidoff.

When tobacco harvests cooperate, you've got to take advantage.

The Davidoff Aniversario No. 1 Limited Edition 2023 is built on a rich and flavorful mix of long-fillers in the Dominican Republic. This is a signature style of blend for Davidoff, and so fans will likely find precisely what they're looking for in this stick. The specific tobaccos used include piloto visus, San Vincente visus, and San Vincente mejorado visus.

Around these lush Dominican leaves, the company wrapped an Ecuador binder and an Ecuador Connecticut capa. Everything is carefully selected and likely to be among the choicest tobacco passing through the hands of Davidoff's growing team. It's a cigar for special occasions, to be sure.

Toast up this premium smoke and take in the flavors of roasted walnuts and cedar. The sophisticated, manly profile also shows notes of cream and fresh spice. (Not crumbly old spice from the back of your kitchen rack, but freshly ground spices with their aromas just released with a mortar and pestle. What, you don't do that?)

Davidoff's limited-edition Aniversario for this year is a double corona, 8 2/3 x 48. If you opt for the box – a treasure, to be sure – you'll see ten of them laid in a row with one in a wooden tubo. On this special stogie, you'll see the original imagery used on the Aniversario blend when it was first conceived.

It is a rare and sophisticated blend, as always, from Davidoff.

Please browse our selection of Davidoff Aniversario No. 1 Limited Edition 2023 cigars at your leisure.

• What are the flavors like?
o Walnut, cedar, cream, and fresh spice

• What's the strength level?
o Medium-full

• Who is this cigar for?
o Davidoff Aniversario No. 1 Limited Edition 2023 cigars are for aficionados who want something truly special.

• Will I want to smoke it to the nub?
o It's pretty heavenly.

• What's a good pairing with it?
o Good scotch. Glenfarclas 25-Year Single Malt is exemplary. It'll cost you, but if this is for a really special occasion, the combination will be otherworldly.

• What's the best time/place to smoke this cigar?
o At 80th birthday parties

• Any flaws/downsides?
o Pricey!
Payment & Security
Your payment information is processed securely. We do not store credit card details nor have access to your credit card information.