Padron 8 Cigar Maduro Tasting Sampler Description
Enter the Maduros!

Even the mere mention of the name Padrón among smokers in the know will raise the level of camaraderie and excitement in the room. That's because this multi-generational cigar family produces some of the best cigars today, including multiple Cigar of the Year wins. Padrón cigars boast a consistency hard to beat and unmistakable signature flavors. The Padrón 8 Cigar Maduro Tasting Sampler offers this and more. Don't miss it!

The Padrón 8 Cigar Maduro Tasting Sampler contains one each of the following cigars: Padrón 1926 No. 1, Padrón 1926 No. 2, Padrón 1926 No. 6, Padrón 1964 exclusivo, Padrón 1964 torpedo, Padrón 1964 imperial, Padrón 6000, and Padrón 4000.

Padrón 1926 Anniversary Series

In the Padrón 8 Cigar Maduro Tasting Sampler, the 1926 Anniversary comes in three shapes and sizes—the No. 1 (6.7 x 54), No. 2 (5.5 x 52), and No. 6. (4.7 x 50). The Padrón 1926 Anniversary Series blend was initially released in 2001 to commemorate legendary cigar maker Jóse O. Padrón's 75th birthday. Padrón releases this blend yearly in a limited run of 100,000 cigars, making them often hard to find. Luckily, the Padrón 8 Cigar Maduro Tasting Sampler has got you covered. Adding to the mystique of this smoke is the cigar band displaying individual serial numbers, which ensure the Padróns in your humidor are indeed authentic.

At the heart of these cigars rests Nicaraguan tobaccos, which first aged for five to ten years. Covering it all up is a toothy, Maduro wrapper, both spicy and sweet. Among the flavor notes experienced are leather, chocolate, spice, sweetness, and nuts.

To many, the 1926 Anniversary cigars are among the best in the world. Just remember that you're dealing with a full-bodied blend here. These are not beginner cigars, and even long-time connoisseurs should have a full meal before toasting this complex yet balanced smoke.

Padrón 1964 Anniversary Series

There is always something to celebrate with a Padrón in reach! This time, it's the 94-rated Padrón 1964 Anniversary blend, first released in 1994 to mark 30 years of Padrón cigars. The Padrón 8 Cigar Maduro Tasting Sampler presents the Padron 1964 Anniversary in three shapes and sizes—the imperial (6 x 54), torpedo (6 x 52), and Exclusivo (5.5" x 50).

Padrón 1964 Anniversary stogies are box-pressed to honor the tradition of Cuban cigars from a bygone era. As with the Padrón 1926 Anniversary, these smokes wear a band with unique serial numbers to protect you against counterfeiters looking to take advantage of the limited edition runs.

Constructed with Nicaraguan tobaccos aged for four years, the 1964 Anniversary Series ranks time and time again as one of the leading brands on shelves today. This blend is wrapped in a veinless, dark, oily Maduro leaf so gorgeous that you may think something so beautiful shouldn't be smoked. But this foolishness quickly fades as the 1964 is too tempting not to introduce to your lighter as soon as possible.

Once burning, you've got a bold smoke with earth, cream, cocoa, and cedar flavor notes. Why not block off some time on a day off, fill up the tank, grab a Padrón 1964 Anniversary imperial and take a tour of your city? You'll see the streets in a way like never before. And you'll be the envy of your cigar-smoking buddies stuck on the job. Enjoy this time. It belongs to you and you alone.

Padrón Thousand Series

Last, in the Padrón 8 Cigar Maduro Tasting Sampler is the Padrón Series, aka Padrón Thousand Series. This is OG Padrón blend territory here, something you do not want to miss. In this sampler, you're getting a Padrón 6000 and a Padrón 4000.

Smoking a Padrón Thousand Series cigar is like being a part of history. As mentioned above, these sticks are loaded with the original Padrón filler blend. This aged blend goes to work with an oily, toothed-up Maduro leaf to deliver notes of sweetness, spice, nuts, pepper, and coffee.

Please enjoy the Padrón 8 Cigar Maduro Tasting Sampler at your leisure.

Customer Reviews
Write a Review
Ask a Question
04/27/2021
Artie B.

United States
Not sure
So I've tried contacting you twice and I have not gotten a response back. I've bought two boxes for at least $300 and nobody can reach back to me. After this box comes I will find another company to buy them from.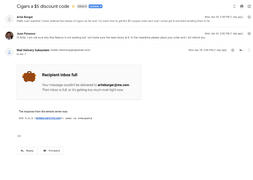 Artie, The only email we have received from you was yesterday and I responded 28 Minute after your email came in. Looks there was an issue with your inbox being too full. I have attached an image for you to see. In the meantime I have also refunded your $5 and gave you Free Shipping. Please let me know if there is anything I can do to keep you Happy and a customer of Cigars Direct :) Juan Panesso - GM 813-386-3245