Las 6 Provincias LV Box Press Robusto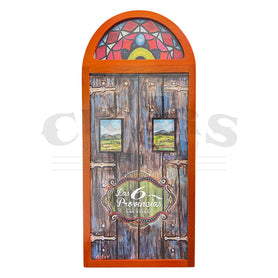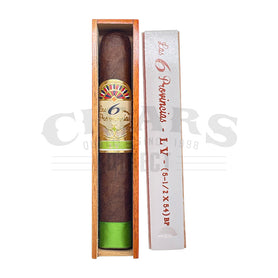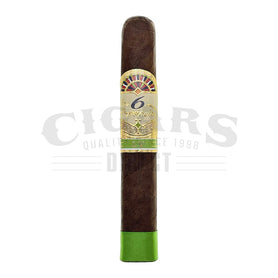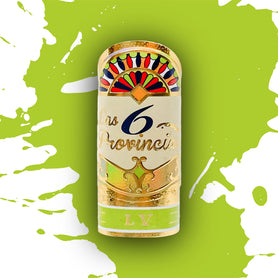 This Espinosa Las 6 Provincias LV Box Press Robusto is made in Nicaragua. Outside, you'll find an Undisclosed wrapper. Inside, the binder is also Undisclosed, and the filler is Undisclosed. This is a Box Press Robusto cigar with a length of 5.50 and a ring gauge of 54.
Espinosa's Las 6 Provincias is a special cigar line, make no mistake about it. In this collection, one blend is planned for each of Cuba's original six provinces drawn up by the Spanish colonial government. This stogie is for Las Villas.

Once known as Santa Clara, the area now has four divisions: Cienfuegos, Villa Clara, Sancti Spíritus, and Matanzas. If you want the original Cuban smokes, you can head there. But if you want a fine tribute, you can hook yourself up with Espinosa Las 6 Provincias LV cigars.

These Nicaraguan puros are 5 1/2 x 54 box-pressed robustos, and you simply won't believe your eyes if you buy a box of them. To call this "packaging" would be an insult. The LV doesn't come in a cigar box – it comes in an artisanal cabinet. The outside looks like a rustic-painted door. Open it up and you'll be taken away into a scene from a time long ago when Las Villas was home to cattle and green sugarcane fields.

Your cigars rest in individual coffins. Slide them out and get your hands on a fantastic dark brown cigar full of classic flavors like black pepper, leather, and creamy cedar. As a tribute to Cuba goes, the Las Villas blend does a capable job, but it's the presentation that wins Espinosa the Estrella de Oro. What a gorgeous gift these would make to the granddad in need of a Father's Day present.

Cigars are made by hand at AJ Fernandez's San Lotano factory in Ocotal, Nicaragua. There, among dozens of other world-class tobacco men, you'll find Erik Espinosa. It's sad that Cuba lost people with such skill and ambition, but we can all be glad they've found a new home in Nicaragua where they can sink in their roots and grow tall once again. And from there, they can pay tribute to the land that helped set them on their way in life.

Please enjoy Espinosa Las 6 Provincias LV cigars at your leisure.

- What are the flavors like? Black pepper, leather, creamy cedar.

- What's the strength level? Medium-full.

- Who is this cigar for? Espinosa Las 6 Provincias LV cigars are for fans of Cubanesque smokes who want one of the coolest cigar artworks ever made.

- Will I want to smoke it to the nub? It should do the trick.

- What's a good pairing with it? A Cuban coffee – espresso and some sugar.

- What's the best time/place to smoke this cigar? In the sun, wherever you can see green things growing.

- Any flaws/downsides? Full body and a lot of pepper could overwhelm some. Careful with retrohale here.
Payment & Security
Your payment information is processed securely. We do not store credit card details nor have access to your credit card information.